3D Systems Jumps 11%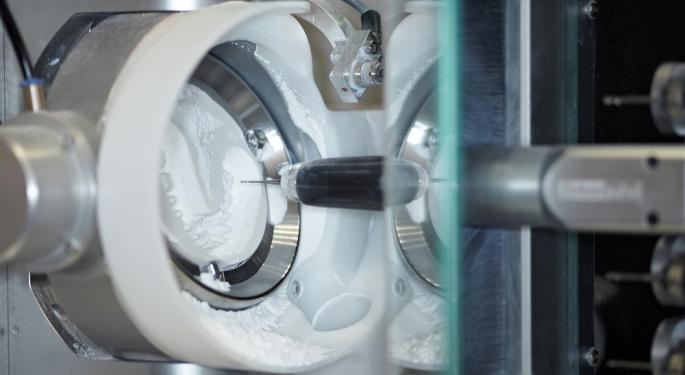 Shares of 3D Systems (NYSE: DDD) rallied significantly on Monday, gaining over 11 percent. This follows what amounted to a solid holiday-shortened trading week for the stock.
The company announced two new printer models, which may have been the source of the move. 3D Systems produces 3D printers -- devices that can create objects from blueprints.
Over the last few years, the technology in the sector has made rapid progress, and shareholders of 3D systems have benefitted. Year-to-date, shares are up well over 220 percent!
Although automation in the manufacturing process is nothing new, 3D systems is on the cutting edge for what it is attempting to do. 3D printers offer self-contained devices that allow users to create objects from start to finish without the need for a factory. Although the process is still relatively expensive, and the objects that can be created are limited, perhaps, in some not-too-distant future, consumers will be able to fashion many of the things they need right at home.
Still, doubts remain.
In late October and again in mid-November, a pair of articles appeared on Seeking Alpha attacking 3D Systems and its accounting standards. The allegations were significant enough to illicit a response from management -- 3D Systems held a special webcast to respond.
Of course, it might be more than the new printer models that sent shares of 3D Systems sharply higher. Stratasys (NASDAQ: SSYS), another name in the sector, saw a nearly seven percent move to the upside on Monday as well.
Over the weekend, The Economist reported that GE (NYSE: GE) had purchased a private company called Morris Technologies.
Morris Technologies is a company within the 3D printing space, and makes machines that can be used in the fabrication of jet engines.
No doubt investing in the 3D printing space has been profitable thus far in 2012. (For its part, Stratasys is up nearly 150 percent this year.) But with short sellers active in the name, it could be a volatile ride here on out.
Posted-In: News Success Stories Intraday Update Movers Tech Trading Ideas Best of Benzinga
View Comments and Join the Discussion!