Are Priceline's Best Days Behind It?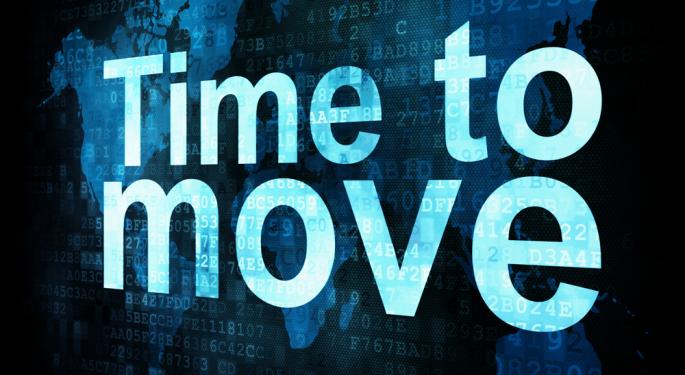 There's been increased chatter lately that if you're shorting stocks now, you're late to the game. In some cases, that's true; but plenty of compelling short setups remain that could offer more downside in coming weeks.
Sure, the market's oversold and will probably bounce at some point between now and the end of the year, but it most likely won't amount to much more than a short-term tradable rally. A lot of technical damage has been done to the market that will take more time to repair. The three-year plus bull market is long in the tooth and new leadership needs more time to come into focus.
In an environment like this, it makes sense to continue to look for profit opportunities on the downside.
When building a list of short ideas, focus on growth stocks that have made huge price runs already or those . There are plenty to choose from, including Priceline.com (Nasdaq: PCLN), Ulta Beauty (Nasdaq: ULTA), Lululemon Athletica (Nasdaq: LULU) and Under Armour (NYSE: UA), among others.
The one that looks the most vulnerable is Priceline after a more than 1,200 percent move since October 2008. A series of lower highs and dry-up in buying demand points toward a stock that could be ready to pay a visit to its last breakout area around $553.
Shares of Priceline gapped up on November 2 on strong earnings but the enthusiasm was short-lived as sellers came into the stock. After early strength, it finished near its session low in heavy volume. Sellers have been in the stock ever since and Priceline is starting to meet with resistance at its 40-week moving average. I'm not seeing unequivocal signs of institutional selling in Priceline yet, but it looks like a tired stock.
It's been said in the past that fundamentals often look the best at or near a stock's top. From a fundamental perspective, earnings prospects still look pretty good at PCLN, but sales growth has been decelerating in recent quarter and continued weakness in Europe in 2013 could weigh on results going forward. Clearly the company is looking for new growth opportunities as evidenced by its recent acquisition of Kayak Software (NASDAQ: KYAK). Part of its recent weakness is because is due to concerns about slowing growth in coming quarters. The concerns are legitimate.
A quick market rally could see Priceline rise to its 40-week moving average around $648, but I suspect this level will ultimately be a significant resistance level for the stock. All great price runs eventually come to an end, and it could be happening now with Priceline. When a new market uptrend begins in earnest, former leaders like Priceline will likely be left behind, replaced by a new crop of leaders still in the early stages of growth.
Stock chart: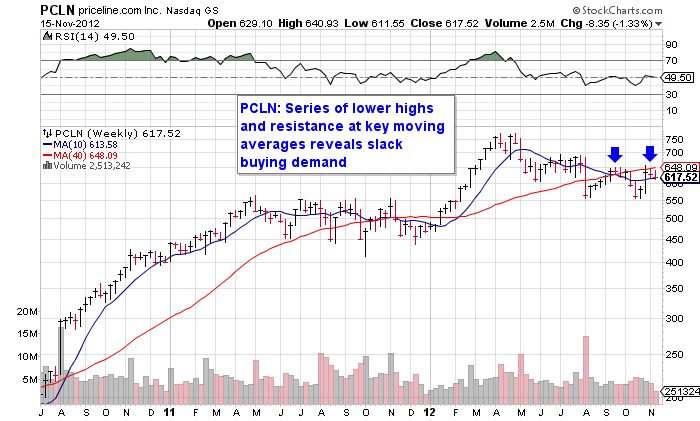 Posted-In: News Short Ideas M&A Movers Tech Trading Ideas Best of Benzinga
View Comments and Join the Discussion!