THQ Throws in the Towel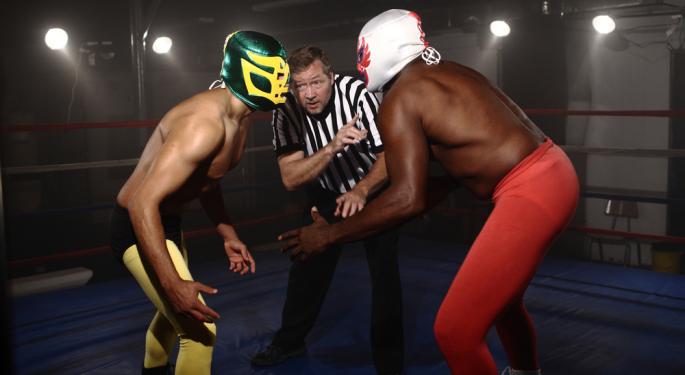 THQ (NASDAQ: THQI), the company best known for developing Saints Row and a number of popular wrestling games, has given up.
It is hard to remember the last time THQ earned a profit. The company has been losing money and disappointing investors for more than 18 months.
THQ's problems escalated early last year when Homefront was released to a number of negative reviews. While critical assessments are not enough to keep a game from being successful, investors were fearful that Homefront would not live up to its publisher's lofty expectations.
"I think that THQ's share decline in excess of the overall market decline was caused solely by mediocre reviews for Homefront," Michael Pachter, Managing Director at Wedbush Securities, told Benzinga in March 2011. "The game is the most expensive one produced in THQ's history, had the greatest pre-launch marketing budget in company history, and was widely viewed as the centerpiece in the company's core games strategy."
That "centerpiece" failed to revitalize the firm. From March 2011 to November 5, 2011, THQ's shares plunged more than 95 percent. The stock continues to drop today, shaving more than 45 percent off the firm's remaining value.
If the Homefront fiasco seemed bad, investors must have been fuming after they learned that the company could not even sell enough copies of Darksiders 2 to break even.
The results may be worse than they appear. While most bloggers are reporting that the game sold 1.4 million units, THQ's second quarter results tell a different story. In the release, THQ plainly states that the company shipped 1.4 million units during the second quarter. It did not say how many the firm actually sold.
THQ is so troubled that it has enlisted in the help of an investment bank, Centerview, to help improve cash reserves. According to Bloomberg, the bank also hopes to "preserve [THQ's] ability to develop games and refinance $100 million of convertible debt."
Bloomberg also quoted THQ CEO Brian Farrell, who said that he was "confident about the opportunities that lie in our robust slate of games and in our studios."
"But we also face challenges operating with limited capital resources in the highly competitive market for games, and we are working diligently to resolve those challenges."
The company's "diligent" work has led to the delay of three games, including Company of Heroes 2 and South Park: The Stick of Truth.
Farrell may be excited about THQ's future, but it is time for someone to remind him that his company cannot make money if it does not have any games to sell.
Follow me @LouisBedigianBZ
Posted-In: Brian Farrell thqNews Small Cap Analysis Small Cap Tech Trading Ideas Best of Benzinga
View Comments and Join the Discussion!