The Jobs Report: More People Working But Earnings Down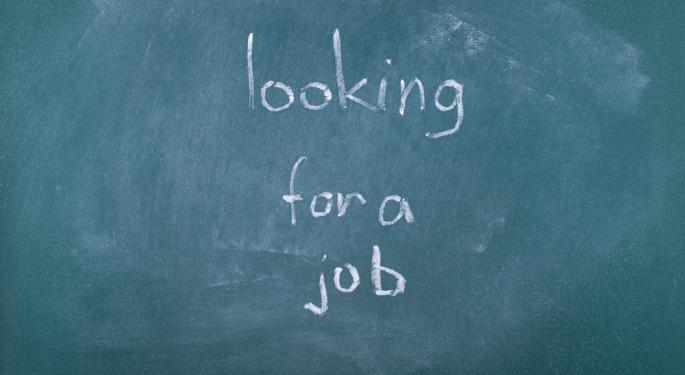 The jobs report released on Friday showed that 171,000 more people were working in October than September. Unfortunately, they were earning a bit less on the job.
The unemployment rate ticked up from 7.8 percent to 7.9 percent, as more people entered the labor force. The number of new jobs created was better than had been expected, as a mid-range in consensus estimates (which had a wide range) was for about 125,000 new jobs to have been created. Job growth for August was revised from up to 192,000 from 142,000 and the change for September was revised up to 148,000 from 114,000.
The number of new jobs created is from a survey of businesses (the establishment survey), while the unemployment rate is from the separate (and smaller) survey of households.
Focusing on the household survey first, the unemployment rate ticked up from 7.8 percent to 7.9 percent -- but this belied the fact that this survey showed that 410,000 more people were working last month. The unemployment rate ticked up only because an even larger number of people entered the labor force, whose ranks swelled by 578,000 people. The difference of nearly 170,000 represents those people who are now considered unemployed. (Note that the household survey has a small sample size and a larger margin of error around some of these figures.)
The new entrants (or re-entrants) to the labor force may indicate a growing amount of optimism by the unemployed that jobs are available for them. Those "not in the labor force," which includes discouraged workers, fell by 369,000 people, while those "marginally attached to the labor force" fell by 84,000 folks. This is a positive, although the number of the long term unemployed rose by 158,000 to reach 5.00 million people who have been searching for work for more than six months, who now account for 40.6 percent of the unemployed, up from 40.1 percent last month.
Still, the broadest measure of unemployment, the U-6 rate, fell from 14.6 percent to 14.7 percent. This includes not just the unemployed who are actively looking, but also those who are without work and have ended their job search (though they still would like a job). This rate also includes those who are working part time but who would like a full time job. In a good sign, the ranks of these involuntary part-time workers fell by 269,000 to 8.34 million.
In the establishment survey, most industry sectors reported job creation, other than mining/logging and government, where job losses occurred at all levels. Professional and business services added 51,000 jobs in October. In this category, temporary help employment changed little in October, and has shown little net change over the past 3 months. Employment in professional and business services has grown by 1.6 million since its most recent low point in September 2009.
Health care added 31,000 jobs in October. Over the past year, employment in health care has risen by 296,000.
Retail trade added 36,000 jobs in October. Retail trade has added 82,000 jobs over the past three months, with most of the gain occurring in motor vehicles and parts dealers, clothing and accessories stores, and miscellaneous store retailers. Retail had experienced considerable job losses during the recession, and a large number of the jobs gained during the recovery have been in this sector.
Employment in leisure and hospitality continued to trend up (+28,000) over the month. This industry has added 811,000 jobs since a recent low point in January 2010, with most of the gains occurring in food services: a notoriously low-wage sector.
The construction sector added 17,000 new workers, a good sign for the beleaguered sector. Manufacturing employment grew by 13,000 in October. Overall, manufacturing employment has shown little change since April. Mining, including energy drilling, lost 9,000 jobs in October; since May of this year, employment in mining has decreased by 17,000. Other categories showed little change over the month.
In October, the average workweek for all employees on private nonfarm payrolls was 34.4 hours for the fourth consecutive month. The manufacturing workweek edged down by 0.1 hour to 40.5 hours, and factory overtime was unchanged at 3.2 hours. The average workweek for production and nonsupervisory employees on private nonfarm payrolls edged down by 0.1 hour to 33.6 hours.
Meanwhile, average hourly earnings for all employees on private nonfarm payrolls edged down by $0.01 to $23.58. Over the past 12 months, average hourly earnings have risen by 1.6 percent -- less than the 2.0 percent rate of inflation through September.
Coupling hours worked with hourly wages, the average weekly paycheck fell by $0.35 to $811.15. This is not the makings of a strong holiday shopping season, as in aggregate across all workers, the index of aggregate weekly payrolls increased by just 0.1 percent.
Posted-In: News Econ #s Economics Markets Trading Ideas Best of Benzinga
View Comments and Join the Discussion!