Construction Spending Edges Up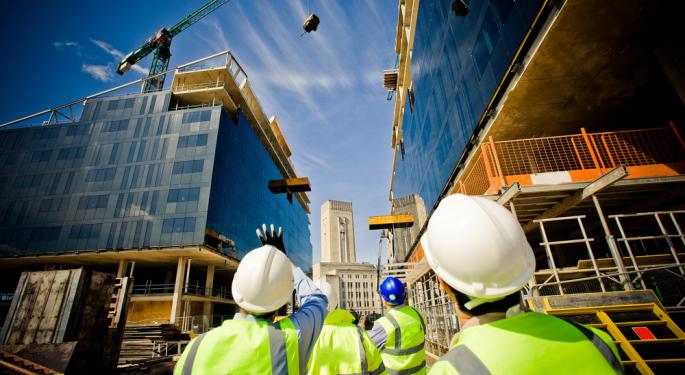 September construction spending advanced by 0.6 percent from August to reach an annualized rate of $851.6 billion, and is 7.8 percent above the September 2011 estimate of $790.3 billion. Because the numbers can be volatile from month to month, especially for the subcategories, year-over-year comparisons are helpful to consider.
The increase in construction spending was primarily in both single family and multi-family private residential, which climbed 2.8 percent for the month, and is 20.9 percent higher than a year ago. Meanwhile, private non-residential construction spending fell by 0.1 percent to $294.6 billion, though it is up 8.8 percent from a year ago. Public construction fell 0.8 percent to $271.1 billion, now down 4.2 percent from September 2011.
Private residential construction has been on a tear over the past twelve months. As inventories in the purchase market have fallen, in part due to investors' purchases of distressed properties, builders have responded by putting up supply of new houses and apartments. Construction of single-family homes advanced by 3.9 percent to $137 billion in September, and is now up 25.7 percent from September of 2011.
Meanwhile, apartments and other multi-family building activity edged up 1.3 percent from August, and surged 48.9 percent from a year ago. Multi-family construction is a smaller component of new construction, at $22.6 billion in September, and can be volatile from month to month.
Businesses were a bit less enthusiastic in the past month. Spending on commercial projects, including shopping centers, fell by 3.8 percent on the month, but is up 4.4 percent from a year ago. This year-over-year spending growth roughly corresponds to nominal sales growth of some chain-store sales metrics. Note that obsolescence of structures is not reflected in these spending categories, so some of the spending on construction is replacement or refurbishment of existing properties.
Office construction fell 0.4 percent, though it is 16.2 percent higher than last year. Construction of manufacturing facilities increased by 3.8% in September and grew by 1.3 percent from a year ago. Lodging, private educational and healthcare construction posted declines in spending for the month, though all are up from last year. On the other hand, transportation, communication and power facilities all racked up spending increases in September.
The public space is where the impact of tight budgets can be felt. The two biggest categories posted declines. Spending on new schools and other educational buildings fell by 0.8 percent in the month, down 6.9 percent for the year. Highway and street spending fell 1.6 percent for the month and dropped 2.4 percent for the year.
Smaller categories were mixed. Sewers and waste disposal spending fell 0.7 percent for the month and is off by three percent for the year; water supply project spending was flat for the month and down 10.2 percent for the year. This is interesting, considering the advance in residential construction. Oftentimes, housing developments sometimes require new investments in roads, sewers and water lines.
However, other categories of transportation, such as airports, increased 0.9 percent higher on the month, up seven percent since a year ago. And amusement and recreation (think parks) spending advanced strongly. However, going forward, tight budgets across all levels of governments may keep public construction spending restrained, especially if we go over the fiscal cliff in 2013.
Posted-In: News Economics Best of Benzinga
View Comments and Join the Discussion!