ISM Manufacturing Survey: Headline Up, Details Mixed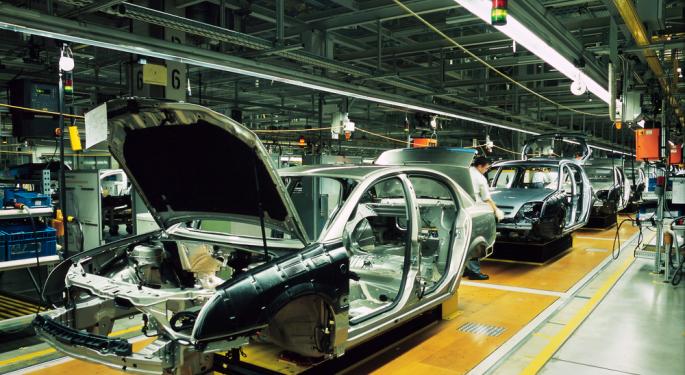 Thursday morning, the Institute for Supply Management released its ISM-Manufacturing survey. Manufacturing activity expanded in the past month, with several sub-components of today's report showing improvement, but other more forward-looking details were mixed. The headline registered 51.7, an increase of 0.2 points from September's reading of 51.5, indicating growth in manufacturing at a slightly faster rate. Any reading above "50" indicates growth in the sector.
The New Orders Index registered 54.2, an increase of 1.9 points from September, indicating growth in new orders for the second consecutive month. The Production Index registered 52.4, an increase of 2.9 points, indicating growth in production following two months of contraction. The Employment Index registered 52.1, a decrease of 2.6 points, and the Prices Index registered 55, reflecting a decrease of 3 points, showing moderating inflationary pressures.
While the headline represents an improvement from last month, and even though the report shows growth in the sector, some of the components warrant caution ahead. The Employment Index, for example, though positive, is still low and hasn't shown any improvement over recent months. Today's separate ADP payroll report indicates manufacturers have cut 8,000 jobs last month. This tends to be a forward looking metric, as manufacturers would tend to hire in advance of a projected increase in activity down the road.
And supplier deliveries are running at a faster pace than last month. That means manufacturers are able to turn around orders more quickly – but also suggests they may have fewer orders competing for production time.
That is also seen in a declining order backlog component. For a seventh consecutive month, manufacturers have seen their backlog decrease. A lower backlog can correlate with softer manufacturing activity , and may point to manufacturers easing production and employment in coming months to align with moderating output targets.
Manufacturers offered their comments in responding to the survey. Many comments were cautious, including concern over both Europe and China (especially considering the export component has now contracted for five consecutive months), and some more general indications of softness. Not all responses were negative, though, with some members reporting that business is "picking up" and business conditions are "stable to slightly improving."
This divergence is apparent in a pattern of those industries reporting contraction versus expansion. Of eighteen industries, eight report expansion and eight report contraction. Some consumer-oriented sectors have done relatively better, such as furniture; leather; apparel; and food, beverage and tobacco. Petroleum, plastics, paper and chemicals are also on this list.
On the other hand, some industries geared towards business investment or materials used for further assembly report contraction. These include primary metals; wood products; machinery; fabricated metal products; transportation equipment; electrical equipment, appliances and components; computer and electronic products; and nonmetallic mineral products.
There are two key takeaways from the industries reporting contraction versus those reporting expansion. One pertains to stronger consumer demand versus that of businesses. This is seen in comparing stronger retail sales versus softer business investment expenditures, as well as in sentiment surveys of households versus businesses both large and small, with the former more optimistic than the latter.
The other takeaway is that the industries reporting contraction are of the materials that go into making other things, rather than the finished goods themselves. This may relate to final manufacturers placing fewer orders from their suppliers, and can be because either their inventories are too high (as we see in other reports indicating inventory sentiment) and/or because makers of finished goods expect sales to decrease at some point. These are early indicators further up the supply chain.
In the case of this report, while the headline is a positive and both production and new orders are growing, the caveat is in the details. And those details, including the views of manufacturers in their own words, are that we may want to be circumspect when forecasting manufacturing activity, headline notwithstanding.
Posted-In: News Economics Markets Best of Benzinga
View Comments and Join the Discussion!