ADP Shows Moderate Job Growth As Jobless Claims Dip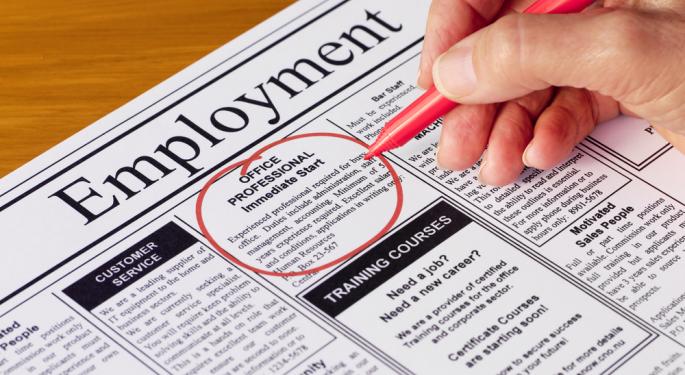 Companies added a moderate number of new jobs, and fewer workers filed for unemployment in the week ending October 27 than in the prior week, according to two separate reports released Thursday morning. As the data were compiled in advance of Hurricane Sandy, the disaster did not effect the reports.
Payroll processor ADP reports that 158,000 new jobs were created in October. This reflects new methodology, a larger sample size and joining forces with Moody's Analytics in producing the report. (ADP had previously compiled the report with Macroeconomic Advisers LLC of St. Louis.) The changes were made in part in an attempt to provide figures that more closely coincide with the payroll figures tabulated by the Bureau of Labor Statistics.
The ADP figures were above consensus estimates for a gain of 131,000 new jobs. The prior month's increase in jobs was 114,000 under the new methodology, but 162,000 under the prior methodology. This compares to the consensus estimates for Friday's payroll figures from the Bureau of Labor Statistics to be for 124,000 new jobs to be created and the unemployment rate rising to 7.9%.
In the ADP report, large businesses added 81,000 new jobs, while mid-sized businesses added 27,000 and smaller companies added 50,000. According to today's data, goods producing sectors hired an additional 14,000 workers. These included manufacturers, who cut payrolls by 8,000, and the beleaguered construction sector, which added 23,000 new jobs.
Services jobs increased by 144,000. Among services sectors, financial firms increased headcount by 9,000 workers. Trade/transportation/utilities added 24,000 and professional/business services increased their payrolls by 35,000 new workers.
In the press release accompanying the report, Mark Zandi, chief economist of Moody's Analytics, said, "Businesses are adding consistently to their payrolls. October's job gains were in line with the average monthly gains of the past two years, with sturdy albeit less than stellar growth across most industries and company sizes. Businesses have turned more cautious in recent months, but that has yet to impact their hiring and firing decisions."
Jobless claims were also reported on Thursday. Seasonally adjusted initial claims for unemployment benefits were 363,000 -- a decrease of 9,000 from the previous week's revised figure of 372,000. The four-week moving average, which smooths week-to-week volatility in the claims figures, was 367,250, a decrease of 1,500 from the previous week's revised average of 368,750.
This is in the same general range for claims that has persisted for some time. New job openings in separate data from the BLS, the Jobs Openings and Labor Turnover Survey, or JOLTS report, show the number of new job openings is little changed in recent months. This may indicate the payroll report released Friday will show results that don't differ substantially from recent months.
In the claims data, the advance seasonally adjusted insured unemployment rate was 2.5% for the week ending October 20, unchanged from the prior week's unrevised rate. These data are reported with a one-week lag. The advance number for seasonally adjusted insured unemployment during the week ending October 20 was 3,263,000, an increase of 4,000 from the preceding week's revised level of 3,259,000. The 4-week moving average was 3,266,500, a decrease of 6,250 from the preceding week's revised average of 3,272,750.
The total number of people claiming benefits in all programs for the week ending October 13 was 5,035,367, an increase of 112,147 from the previous week. There were 6,783,614 persons claiming benefits in all programs in the comparable week in 2011. These data are also reported with a one-week lag.
The largest increases in initial claims for the week ending October 20 were in North Carolina (+2,400), Pennsylvania (+1,679), New Jersey (+1,575), Georgia (+1,477), and Tennessee (+888), while the largest decreases were in California (-16,586), Florida (-2,414), Texas (-1,572), Michigan (-1,308), and Ohio (-1,214).
Posted-In: ADP employment report Jobless ClaimsNews Events Econ #s Economics Markets Best of Benzinga
View Comments and Join the Discussion!