Apple's Four-Year Road Map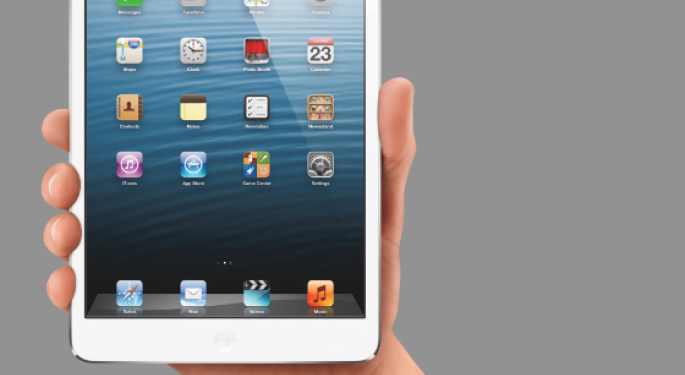 "Apple's (NASDAQ: AAPL) innovation is sputtering," Trip Chowdhry, the Managing Director of Equity Research at Global Equities Research, proclaimed this week. "Why is [it] that Apple, the company that brought touch to phones and tablets, stopped just there and did not bring touch to notebooks and iMacs? Why is it that Apple brought high-resolution screens to…some MacBooks and not to all devices? High-resolution screens are a commodity today."
Chowdhry was providing a response to the company's first full year without Steve Jobs. He took issue with the departure of Scott Forstall, the former senior VP of iOS.
"Our contacts speculate that Apple executive leadership may have rushed Scott Forstall to deliver products prematurely," said Chowdhry. "This may also indicate that Apple may be lacking a three- to four-year product road map, because if a roadmap existed, engineers would not be pushed to ship products prematurely -- especially when they are not fully tested."
Chowdhry's comments spark an interesting debate about where Apple is headed over the next few years. During the company's most recent press events, senior executives unveiled a host of new products -- new iPads, new iMacs, new MacBook Pros and a refreshed Mac Mini. It was enough to make even the most optimistic analyst wonder if the company had saved anything for the next two quarters.
Apple has gone all-in, pleasing some with its revised iMac (which incorporates the unique and promising Fusion Drive concept) while disappointing others with a fourth-generation iPad that some believe came too soon. Whatever the case, Apple seems to be on a mission to sell as many products as possible this Christmas.
Still, it is not unreasonable for Chowdhry to question why Apple is not doing more.
In all fairness, it may be too soon for the company to bring the Retina Display to all of its devices without raising the prices too high. Chowdhry knows this better than anyone. In June, he estimated that if Apple made a Retina Display television today, it would retail for a bare minimum of $25,000. He also said that the price of Retina Displays should go down over the next five to seven years.
This is perfect for Apple's four-year cycle. The company does not need to build a TV yet, but it does need to incrementally update its product line. Apple could have gone ahead and added the Retina Display to its iMacs. But if it had, the starting price would have been a bit higher than $1,299. During a bad economy, this would have made it harder for Apple to sell the computer.
That was only one reason for Apple to wait, however. By postponing the Retina Display another year, it gives Apple another hyping point for the next iMac refresh.
The same goes for any addition that people have been waiting for, including touch. Right now, Apple can afford to wait on this feature. It may risk a lot in the process (if Windows 8 takes off, Microsoft (NASDAQ: MSFT) could reduce Apple's market share), but that is a risk Apple is willing to take. In doing so, it ensures that the iPad -- which is already in the hands of 100 million consumers -- will continue to sell.
iPad sales will come to a screeching halt the moment that Apple starts to add touch screens to the Mac platform. In doing so, the MacBook Air could quickly and easily become an incredible iPad-killer. It would be a lot more expensive than the iPad, but it would also allow users to do so much more than they can with a tablet. Instead of buying an iPad and a MacBook, consumers would simply buy a MacBook.
Apple does not want to exist in a world where people lose interest in iDevices. It is not enough for consumers to upgrade their iPhones annually. Apple wants the world to own and frequently upgrade every product it manufactures.
By stretching out the release schedule of its products, and by stretching the time in between important upgrades, the company hopes that it can continue to earn record-breaking profits.
Thus, the next 12 months should involve the following product refreshes:
iPad Mini with Retina Display.
iPhone 5 tweaks with a faster processor, new camera gimmicks, a new version of Siri and a revised Maps app.
MacBook Air with Retina Display
An enhanced Apple TV.
In 2014, Apple fans can expect another slate of upgrades:
iMac with Retina Display
A smaller Mac Mini
A standalone Retina Display for pro users who want an extra screen (this will be the company's first true step into the world of TV manufacturing, but it won't actually be a TV).
Sixth-generation iPad with a larger display (like the iPad Mini, the screen will go almost all the way to the edge).
iPhone 6
Another enhanced Apple TV -- this time with a new user interface, and maybe a new remote control.
By 2015, Apple should be ready to release the following enhancements:
Another iteration of the iPhone 6.
Retina Displays will come to all of the company's devices (if they haven't already).
iPad Mini will receive its first significant overhaul.
One or more iPod iterations will be eliminated because of lagging sales (by 2015, everyone who wants an iPod Touch will probably have one) and because Apple wants users to buy the iPad Mini instead.
The MacBook Pro will receive a slight (but somewhat significant) overhaul that makes it nearly as thin as the MacBook Air.
Apple TV will begin to transform into a home gaming device.
In 2016, Apple will release yet another slate of upgrades:
The company will introduce its "lightest and most powerful MacBook yet" (that's a paraphrase of the quote Tim Cook is likely to utter during a press event).
iPhone 7 will receive a surprisingly significant upgrade.
Mac OS will receive a tweak that seems to make it touch-friendly, hinting at the future.
Solid state drives will be cheap enough for Apple to abandon the Fusion Drive concept, enabling the company to build its "fastest iMac yet" (another anticipated quote).
All remaining iDevices -- iPad, iPad Mini, iPod, etc., will receive minor upgrades.
Apple will upgrade Apple TV with high-end graphics processors, allowing it to power next-gen video games from Electronic Arts (NASDAQ: EA) and Activision (NASDAQ: ATVI). The company will hold itself back, however, by insisting that it does not need to build an actual game controller. This will inspire hundreds of manufacturers to fill the void with their own gamepads, most of which will turn out to be junk.
Follow me @LouisBedigianBZ
Posted-In: Apple Global Equities Research Scott Forstall Tim Cook Trip ChowdhryNews Rumors Tech Best of Benzinga
View Comments and Join the Discussion!