Apple Was Smart to Fire Scott Forstall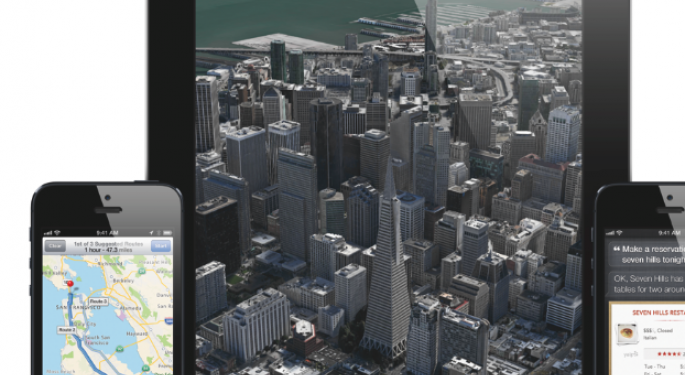 He is being referred to as the most valuable free agent in technology. But while Scott Forstall may walk away from Apple (NASDAQ: AAPL) with a powerful resume and a mountain of media hype, his departure might actually be a blessing for the company.
Apple is unlikely to say exactly why Forstall is leaving the firm, but that has not stopped The Wall Street Journal from sharing its story. According to the publication, Forstall was more or less forced out of the company after he refused to sign an apology for the company's ill-fated attempt at building its own mapping application.
If this is true, some investors might think that it was unfair for the company to place all (or a significant portion) of the blame on one man. While Forstall may have been instrumental in the implementation of the new Maps app, he was not the only man responsible. Other executives had to have signed off on this project.
Fans of Forstall may believe that he should not have to apologize if he had nothing to do with the Maps app. This is true, but this is also where he gets into trouble. As the senior VP of iOS, Forstall has (perhaps unintentionally) taken all the credit for iOS. He is literally the face of Apple's mobile software division, appearing on stage at press events and in promotional videos. He talks like an executive, walks like an executive and looks like an executive.
And as the world is beginning to learn, he behaves like one as well.
Forstall could have simply accepted blame for the mapping blunder and maintained his position at Apple. It may not have been the cool thing to do, but as the leader of iOS it was his responsibility.
That is not to say that people should accept blame for a bad product they did not create. Other, more senior executives may be the ones who are truly responsible. But the same could be said for all of Forstall's accomplishments. There are dozens -- if not hundreds -- of men and women who made iOS what it is today. Where were they on stage when Forstall told WWDC 2011 attendees about the great new features of iOS 5?
He has managed to maintain the image that he is solely responsible for iOS' success. He may not have sought that image, but he has done nothing to dispel it either.
If Forstall was to blame for the lousy mapping application, he absolutely should have apologized. Steve Jobs may not have expected him to apologize, but this is no longer Jobs' Apple. It is Tim Cook's Apple, and with it comes a host of new challenges. Forstall should have realized that and considered his future with the company -- or lack thereof -- before refusing to take the blame.
Follow me @LouisBedigianBZ
Posted-In: Apple Scott Forstall Steve Jobs The Wall Street Journal Tim CookNews Success Stories Tech Best of Benzinga
View Comments and Join the Discussion!