Social Media Signature for Crocs, Guidance Cut and Price Target Lowered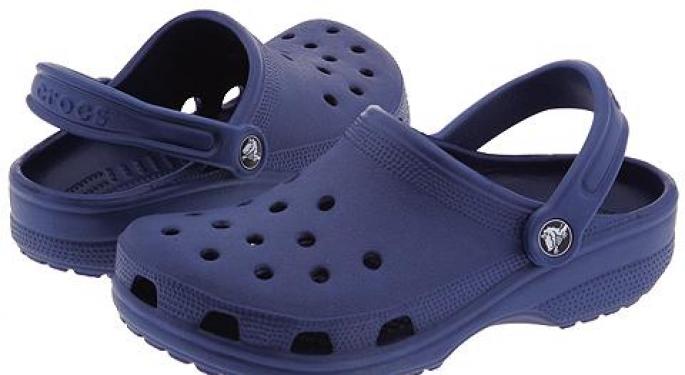 This week, Social Market Analytics (SMA) looks at Crocs, Inc. (NASDAQ: CROX), a designer and distributer of casual footwear, apparel, and accessories for men, women, and children in America and worldwide. The week of October 22 was a challenge for shareholders of CROX as the company reported Q3 earnings of $0.24 per share, compared to analyst's expectations of $0.20, but established a tepid fiscal Q4 earnings guidance of $0.43 per share. Shares of Crocs fell nearly 21% on October 25 as analysts lowered price targets and raised concerns of underperformance during the all-important, upcoming holiday shopping season. During the week, CROX appeared on SMA's morning Flash Report, which identifies stocks, in the pre-market, with extreme sentiment levels that are likely to trade with high activity during the upcoming session. On the morning of October 25, our analytics engine identified CROX as a stock with high negative sentiment from the universe of stocks tracked by SMA. SMA's sentiment metrics provided early indication of negative price trends for CROX as traders integrated the company's financial performance and Q4 guidance cut.
On October 23, SMA's S-Score for CROX began a sharp decline into negative territory. In the pre-market of October 24, our S-Score for CROX stood at -0.96 (Negative), a notable decline from the positive level of 1.1 seen the previous day. CROX closed the October 24 session at $16.19 for a loss of 1.34%. The behavior of SMA's S-Factors measures market trading sentiment and can provide actionable signals for upcoming price movement. The decline in market sentiment accelerated in the pre-market of October 25 as CROX's S-Score posted a large decrease to -2.38 (High Negative), coincident with a massive spike up in its S-Volume metric indicating unusually high social media activity for the stock. CROX gapped down strong at the open to $13.91, a drop of 14%, and continued to sell off during the session to close at $12.76, a loss of 21.1% for the day on high volume. In the pre-market of October 26, CROX's S-Score rebounded, returning to positive levels. The stock traded in a tight range, opening at an intraday high of $12.86, but closed trading at $12.73, for a net loss of nearly 22.2% percent for the week.
Social Media data are noisy and complex. A single metric is insufficient to understand sentiment behavior over time. Our S-Factors are a family of metrics, including volatility, trend and volume measures, designed to provide a complete view of the social media signature for each security tracked in SMA's database. SMA's processing engine continuously updates our S-Factors, capturing overnight and pre-market sentiment activities. Clients receive sentiment reports, prior to the U.S. market open, and intra-day sentiment estimatesfor tracked stocks, on-demand. Clients have access to our Sentiment Alerts feature, which provides real-time notification of changes in sentiment metrics for the stocks on a client's customized watch list. We invite the reader to visit our website; investigate our market sentiment metrics for CROX, other stocks, industry sectors, and market indices; participate in our FAQ forum; and sign up for our Flash Report and Newsletter.
Posted-In: News Guidance Analyst Ratings
View Comments and Join the Discussion!