Nokia Brings the Lumia 820 to Verizon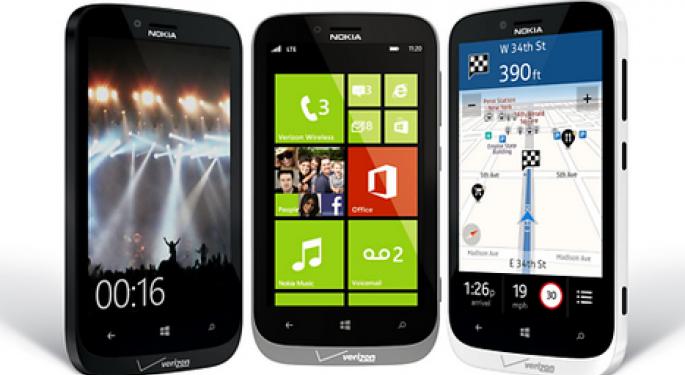 Nokia (NASDAQ: NOK) has confirmed that it will bring its second-tier Windows Phone 8 device, the Lumia 820, to Verizon (NYSE: VZ) this fall.
The new phone, which is coming to AT&T (NYSE: T) in November, will be called the Lumia 822 when it is released on Verizon. It is being referred to as an "exclusive" Verizon device. While both the Lumia 820 and 822 are similar devices (both feature an 8MP camera, a Snapdragon S4 processor and a 4.3-inch display), the latter does contain a much more powerful battery. This allows the 822 to feature talk time of up to 11.7 hour versus 7.5 hours on the 820.
Nokia also rounded the corners of the 822 and made it a less colorful device. Instead of promoting to the smartphone in bright red, yellow or some other familiar color, the 822 comes in three basic varieties: white, gray and black.
"Bringing the Nokia Lumia 822 to Verizon Wireless allows us to expand our award winning Lumia brand to even more customers here in the United States," Olivier Puech, President of Nokia Americas, said in a company release. "With the Nokia Lumia 822, first-time smartphone buyers -- and those ready to switch -- will get high-quality performance on both their device and Verizon Wireless' incredibly fast 4G LTE network."
Verizon is rumored to charge as little as $50 for the new smartphone, which is being marketed as an entry-level product despite containing many high-end features. The 822 comes with most of the bells and whistles of Nokia's other Windows Phone 8 devices, including Nokia Drive+ (the company's turn-by-turn navigation system), Nokia City Lens (an augmented reality feature for discovering new places) and Cinemagraph (transform photos into animated GIFs).
Lumia 822 users will also gain access to Nokia Music, the company's ad-free music service.
Follow me @LouisBedigianBZ
Posted-In: Lumia 820 Lumia 822 NokiaNews Tech Best of Benzinga
View Comments and Join the Discussion!