General Motors to Benefit from Anti-Japanese Sentiments in China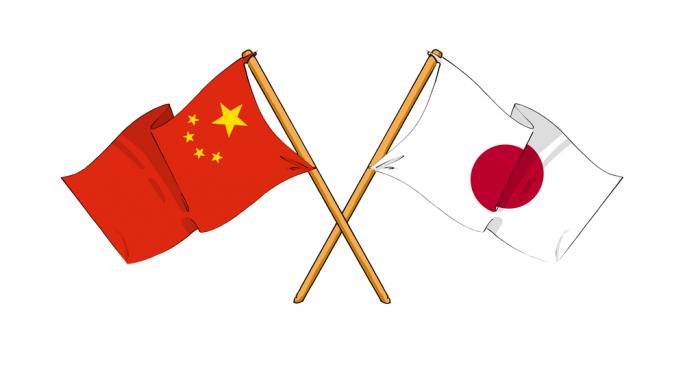 There have been some anti-Japanese sentiments in China due to political issues concerning the dispute over a batch of uninhabited islands that the two nations are fighting for control over in the East China Sea.
The loss of Japanese automakers' market share could benefit Detroit automakers General Motors (NYSE: GM), Ford (NYSE: F) and Chrysler (OTC: FIATY) as the car makers could pick up the slack from the 200,000 unit decrease in sales for Honda (NYSE: HMC), Toyota (NYSE: TM) and Nissan (OTC: NSANY).
Japanese brand vehicle sales dropped 29 percent in September on the issue and analysts predict that Japanese brands will lose about a fifth of the market share through the end of 2012, amounting to about 200,000 units.
Namrita Chow, an analyst for IHS Automotive based in Shanghai, predicted that General Motors will see an instant increase in sales for a possible profit (based on earnings of $1,000 per vehicle) of $200 million, just from picking up the slack.
Although General Motors currently doesn't have any intention of increasing production to fit the bill overseas, other companies may take advantage despite the opportunity being available to all non-Japanese automakers that ship cars to China.
So far in 2012, General Motors has sold over two million units in China versus Ford's 428,000. Ford also has announced plans to invest $5 billion in new plants and infrastructure, despite also not having any plans to increase production. Chrysler does not currently release monthly sales totals nor does the company have any plants in China, but analysts estimate sales sit at around 70,000 units.
In September, several Japanese automakers including Toyota shut down production plans in China due to the political issues with the islands. According to The Detroit News, the last chance the Detroit automakers had to grab market share in China was after the 2011 tsunami and earthquake, but as growth in China slows automakers are resisting the temptation to ramp up production so as to avoid delivering vehicles that will not be sold.
Chow believed that General Motors was one company (among others) that stood to benefit directly from the anti-Japanese sentiments in China as Chinese consumers have cash on hand and are refusing to purchase Japanese vehicles.
Pre-market, shares of General Motors are up 0.45 percent and closed up 1.03 percent on Monday. Year to date, the stock sits up 20.77 percent while Toyota remained flat pre-market, closed up 2.3 percent on Monday and year to date sits up 15.24 percent.
Ford is up 0.20 percent pre-market and closed up 2.4 percent on Monday. Year to date, shares are down 5.02 percent. Honda shares were flat pre-market and closed up 4.83 percent on Monday. Year to date, Honda shares are up 1.6 percent.
Posted-In: News Politics Global Economics Pre-Market Outlook General Best of Benzinga
View Comments and Join the Discussion!