Toyota, Nissan and Honda See Sales Plunge in China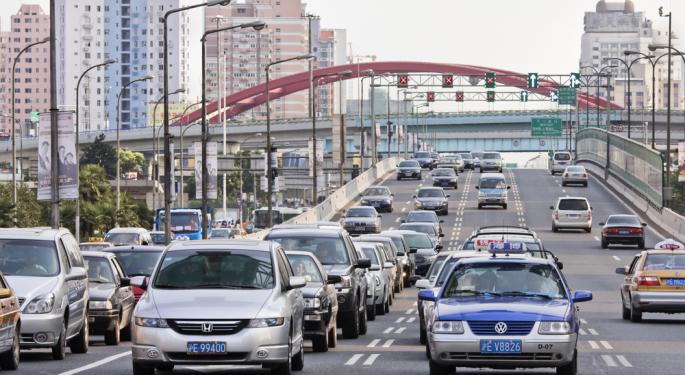 The three largest Japanese auto makers, Toyota (NYSE: TM), Nissan (OTC: NSANY) and Honda (NYSE: HMC), announced motor vehicle sales in China for the month of September on Tuesday. According to a Reuters article, Toyota's sales fell 48.9 percent compared to September 2011, Nissan sales (including imports) were down 35.3 percent while Honda reported sales fell by 40.5 percent. "Inventories are growing, factories are operating less, and retail is not going well at all," Koji Endo, a senior analyst at Advanced Research Japan, told Reuters.
The largest Japanese car makers rely heavily on the Chinese market for growth, and were hit by calls for a boycott of Japanese-made products as an ongoing territorial dispute between Japan and China flared up. Anti-Japanese demonstrations sometimes turned violent with reports of mobs attacking dealerships and injuring Chinese driving Japanese cars.
Shares of Japanese companies that derive a large percentage of their profit from China fell on the Tokyo Stock Exchange today including Toyota (-1.5 percent), Nissan (-1.9 percent) and Honda (-2.5 percent). Auto parts makers that also depend upon Chinese sales for growth fared poorly as well including Denso (OTC: DNZOY -2.1 percent), Bridgestone (OTC: BRDCY -0.5 percent) and NGK Spark Plug (OTC: NGKSY -0.6 percent).
The question for Japanese car companies is how long anti-Japanese sentiments in China will continue to have an impact on sales. Toyota, Nissan and Honda all said that they would be cutting automobile production in China by about 50 percent during October in the face of declining sales. Reuters reported, "A Japan-based Toyota executive has told Reuters that Toyota's production cutbacks in China were likely to extend through November, which points to the company's pessimism over prospects for an early recovery."
Yesterday, GM (NYSE: GM) reported that its sales in China increased by 1.7 percent in September, despite sluggish demand for the company's minivans, which are widely used as delivery and goods transport vehicles by small businesses in China.
Car manufacturers from Europe and South Korea have been taking advantage of the move away from Japanese branded cars. According to Bloomberg, Hyundai Motor (OTC: HYMLY) and Kia Motor, a Hyundai subsidiary, will sell more cars in China during 2012 than they had originally planned. Audi, a division of Volkswagen (OTC: VLKAY), saw sales rise by 20%. "Audi last month asked a Chinese dealer to remove a banner advocating the murder of Japanese people after a photograph of the sign went viral on the Internet," Bloomberg reported.
Posted-In: News Global Economics Best of Benzinga
View Comments and Join the Discussion!