Territorial Disputes Taking Toll on Japanese Economy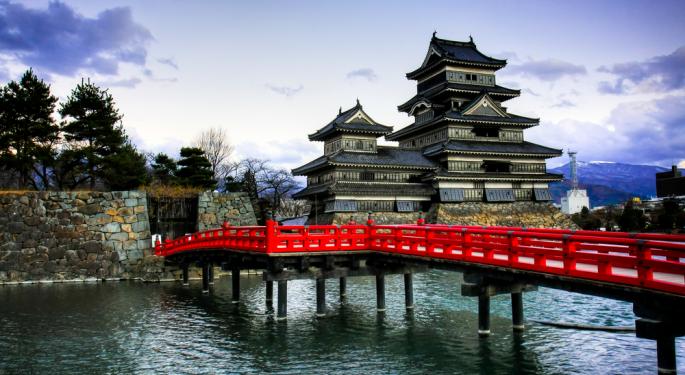 Japan's ongoing territorial disputes with China and South Korea are beginning to take a toll on the Japanese economy, particularly the auto sector. Tensions are rising between China and Japan over control of the Senkaku/Diaoyu Islands in the South China Sea while Japan and South Korea continue to dispute the sovereignty of the Liancourt Rocks in the Sea of Japan.
Reuters reports that Mazda (OTC: MZDAY), the first Japanese car company to report September auto sales in China, saw sales down 35% to only 13,258 units. Toyota (NYSE: TM), Nissan (OTC: NSANY) and Honda (NYSE: HMC) have all cut automobile production in China during September due to violent anti-Japanese protests but have yet to report their September sales figures.
On the other hand, non-Japanese car brands continue to sell well. Audi, part of Germany's Volkswagen (OTC: VLKAY) group, reported that its passenger car sales in China increased by 20% to 35,512 units in September. General Motors (NYSE: GM) has not yet reported its September sales in China but reported that the company had reached its 2 millionth unit sale in China on September 21st, the earliest date ever for reaching that milestone.
Bloomberg reported last week that some Japanese car dealerships were vandalized. Dealers in competing brands were offering special incentives for Chinese drivers to trade in their Japanese cars. "A Buick showroom in eastern Zhejiang province is offering cash rebates and gift bags to buyers who trade in their Japanese cars, according to Chen Linling, a saleswoman at the dealership," Bloomberg reported. "'Business has been quite good and we've been busy since we started the promotion," Chen said by telephone. "We rolled out this marketing move after the Diaoyu protests in China.'"
Although mass anti-Japanese protests seem to have eased in China during this week's "Golden Week" holidays, military tensions have been ratcheted higher. Japan's Self-Defense Agency reported today that seven Chinese warships passed through international waters between the Japanese islands of Okinawa and Miyakojima—a deliberately provocative move. Chinese warships continue to patrol the waters around the disputed islands in what the Japanese see as a violation of their territory.
The long-simmering tensions between Japan and South Korea over the Liancourt Rocks has intensified as South Korea presses its claim against Japan. South Korean television reported today that four F-15 fighters were scrambled on September 21st to intercept a Japanese military helicopter that entered airspace claimed by South Korea over the disputed territory. Japan claims that its helicopter was flying over international waters.
These territorial disputes coming when the Japanese economy is still struggling with the aftermath of last year's earthquake and nuclear disaster, are raising concerns in Japan that the economy will tip back into recession.
Posted-In: News Retail Sales Global Trading Ideas Best of Benzinga
View Comments and Join the Discussion!