Call it a Comeback: Ford, GM & Toyota on the Rise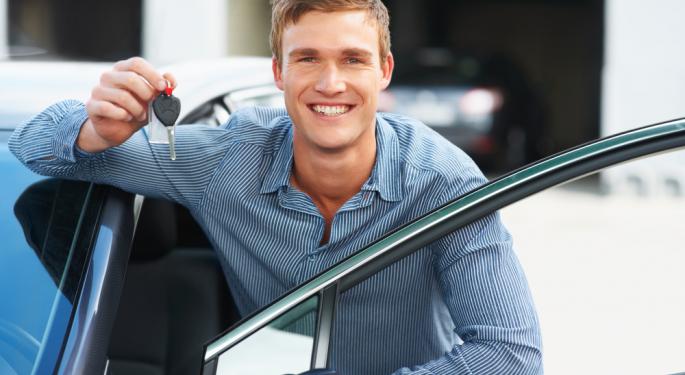 What was once considered to be one of the most doomed industries in the U.S. is rebounding back -- with no apologies. Detroit automakers such as Ford (NYSE: F), Chrysler (OTC: FIATY) and General Motors (NYSE: GM) have been producing numbers throughout 2012 that were simply unthinkable just a few short years ago.
According to Bloomberg, U.S. vehicle sales are poised to rise at least 10 percent for the third year in a row, an announcement that surely has once wary investors jumping for joy. Considering the year the automakers have had, including potential strikes in Canada, the European debt crisis and more than a handful of recalls from General Motors, Ford and Toyota (NYSE: TM), it appears that the industry is a force to be reckoned with no matter the drama.
General Motors experienced a sales increase throughout just the last month alone of 1.5 percent year-over-year. Although this was below Bloomberg's consensus of 2.8 percent, all four of General Motors' brands -- Buick, Chevrolet, Cadillac and GMC -- were up (ranging from 1 to 10 percent) from the same period in 2011.
"The auto industry in September reached an important milestone that few other sectors can claim. Carmakers sold cars and light trucks at an annualized rate of 14.9 million, taking into account seasonal adjustments, according to researcher Autodata Corp," Bloomgberg reported Wednesday morning.
"That's the best pace since March 2008, before the failure of Lehman Brothers Holdings Inc."
Even luxury vehicles have seen an increase in sales as of late, with Mercedes experiencing a 7 percent gain in the U.S. last month. Similarly, Toyota's Lexus sales were up a whopping 36 percent.
Whether it is luxury or affordability that American consumers are after, there is no denying that the auto industry is making a comeback. Ford set records in September, with its Escape model selling 14.5 percent more last month that it had in 2011. No doubt that investors are inevitably pleased with this report, as shares are up about .1 percent in pre-market trading on Wednesday morning.
Toyota scooped the biggest sales gain over the last month, according to Bloomberg. The automaker's sales flew up 42 percent year-over-year, giving the company something to smile about in the midst of a production halt overseas.
Once positioned as the recession underdog, America's auto industry is expected to continue rebounding at a steady pace. While other major markets sit on the sidelines in jealous fury, automakers remain confident that consumers will continue to ensure that their companies are profitable.
"As we look forward, we continue to be encouraged by positive signs from the housing sector, lower jobless claims, higher consumer sentiment and higher consumer spending," Vice President of General Motors' U.S. Sales Operations Kurt McNeil said on Tuesday's conference call.
McNeil believes vehicle sales will "continue to be a bright spot for the U.S. economy."
Year-to-date, Toyota and General Motors have surpassed the S&P 500 Index, each up over 16.20 percent. Ford lags behind, down 9 percent year-to-date.
Posted-In: Bloomberg Kurt McNeil lexusNews Retail Sales Topics Movers General Best of Benzinga
View Comments and Join the Discussion!