Watch for Higher Tire Prices as Rubber Rebounds (GT, CTG)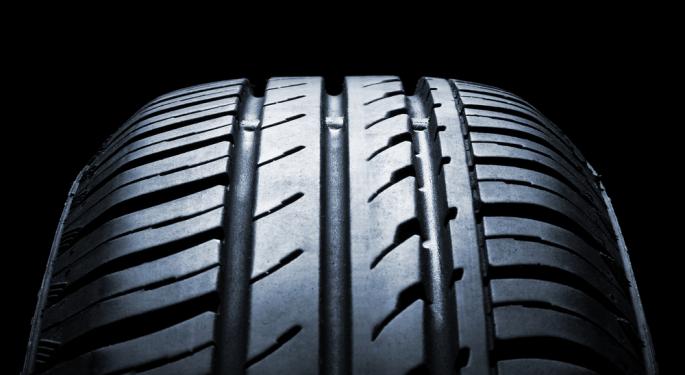 Thailand, Indonesia and Malaysia -- the world's three largest rubber producing nations -- put into effect a plan to bolster natural rubber prices by withholding exports and cutting production on Monday. The plan, announced back on August 16th by the three countries that comprise the International Tripartite Rubber Council (ITRC), calls for a 300,000 ton reduction in exports during 2012 and 2013 and a 150,000 ton production cut to be implemented by accelerating a rubber tree replanting program. The three ITRC members make up about 70% of world natural rubber production.
Benchmark rubber prices on the Tokyo Commodity Exchange (Tocom) closed at ¥273.20/kilogram ($3502/metric ton), up 33% from the mid-August low when the ITRC plan was announced. Rubber trades in Tokyo as ribbed smoked sheet #3 (RSS3), a semi-processed rubber product that is mostly used to make tires. According to a report by the International Rubber Study Group cited by Bloomberg, natural rubber production will reach 11.3 million tons in 2012, exceeding anticipated demand of 11.2 million tons. Production is expected to increase to 11.8 million tons in 2013 but this estimate does not include the production cuts that will be implemented starting at the end of the current harvest in February 2013.
In addition to the ITRC plan to withhold exports and to cut production, Tocom reported that its rubber stockpiles fell to a 13 month low of 3,122 metric tons as of September 20th, the latest data available, Bloomberg reported.
Once again, the economic slowdown in China is seen as the culprit. Weaker exports due to slack demand in the U.S. and Europe have reduced demand for new trucks and truck tires in China. Slower truck sales in the U.S. and Europe and sluggish investment in mining and construction equipment globally has also reduced the growth in demand for natural rubber used in tires.
An average medium- to heavy-duty truck tire will use up to 51 pounds of natural rubber according to Jeremie Capron, an analyst at CLSA Asia-Pacific Markets, cited by Bloomberg. A passenger car tire will use about 3.5 pounds of natural rubber.
Although natural rubber prices are up only slightly year-on-year, the bear market that persisted for most of 2012 now seems to be over. Natural rubber demand is not expected to resume higher growth until 2013 but that is largely dependent upon demand for truck tires in China
U.S. tire makers Goodyear Tire (NYSE: GT) and Cooper Tire and Rubber (NYSE: CTG) are already trending lower after peaking in mid-September. Unless truck demand in China really takes off, higher natural rubber prices may not be a factor in these companies' earnings until the second half of 2013.
Posted-In: News Commodities Global Markets Trading Ideas Best of Benzinga
View Comments and Join the Discussion!