Australia Cuts Benchmark Rate on China Slowdown Fears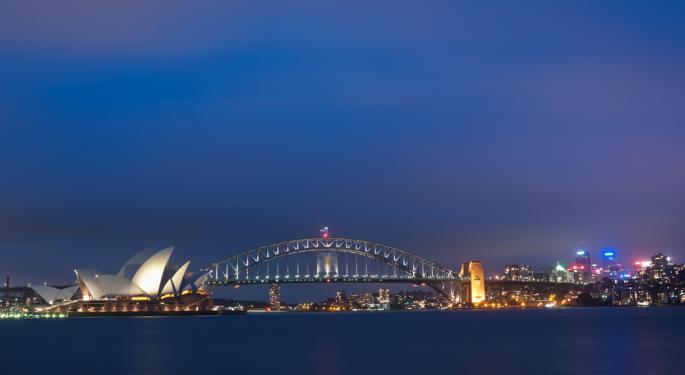 The Reserve Bank of Australia (RBA) cut its benchmark interest rate, the overnight cash-rate target, by 0.25% to 3.25% on Tuesday, effective tomorrow. The Australian dollar immediately weakened against other major currencies, falling 53 pips against the US dollar and losing 104 pips against the euro.
RBA Governor Glenn Stevens issued a statement on today's decision in which he said, "The outlook for growth in the world economy has softened over recent months, with estimates for global GDP being edged down, and risks to the outlook still seen to be on the downside."
The RBA had been forecasting a soft landing in China for some time but changed its tune in today's statement. "Growth in China has also slowed, and uncertainty about near-term prospects is greater than it was some months ago. Around Asia generally, growth is being dampened by the more moderate Chinese expansion and the weakness in Europe."
Chinese demand for Australian resources is a key component of growth. Prices for Australian iron ore and coal, both thermal coal used in power plants and metallurgical coal used to make steel, have been declining due to slower growth in China. Bloomberg notes, "A quarter of Australia's exports, making up about 5 percent of gross domestic product, goes to China, and 60 percent of those shipments are iron ore."
"Key commodity prices for Australia remain significantly lower than earlier in the year, even though some have regained some ground in recent weeks," Stevens' statement continued, "The terms of trade have declined by over 10 per cent since the peak last year and will probably decline further, though they are likely to remain historically high."
Since mining and other resources make up such a large part of Australia's economy, a prolonged period of stagnant demand and declining prices will have a big impact on overall economic activity. "…growth has been running close to trend, led by very large increases in capital spending in the resources sector," the RBA statement continued. "Looking ahead, the peak in resource investment is likely to occur next year, and may be at a lower level than earlier expected. As this peak approaches it will be important that the forecast strengthening in some other components of demand starts to occur."
The RBA rate cut is intended to boost consumer demand, in particular. Virtually all home mortgages in Australia have floating interest rates based on the RBA's overnight cash-rate target. Australian banks have been under pressure to pass along lower rates to their mortgage customers but they have been reluctant to do so. Today's 0.25% cut is the fifth RBA cut since November 2011, according to The Australian newspaper, with the benchmark 1.25% lower than it was a year ago.
The Bank of Queensland announced that it will cut its mortgage rate by 0.20%. "Given the continuing pressure on the cost of funding a 20 basis point reduction is the best balance between our customers and shareholders," Bank of Queensland chief executive Stuart Grimshaw said. Other major Australian banks are expected to follow suit.
The RBA hopes that by cutting interest rates, consumers will have more money to spend as their mortgage payments decline. It is also hoped that lower interest rates will stimulate construction activity.
Investors can trade the Australian dollar through the CurrencyShares Australian Dollar Trust (Nasdaq: FXA) ETF. Prior to the market open, the bid-asked is 103.09 to 103.12 compared to Monday's close of 103.70. There is support for FXA at the 500-day simple moving average (103.04) and, if that support is broken, there is additional support around the September 5th low of 101.80.
Posted-In: News Short Ideas Commodities Currency ETFs Forex Global Econ #s Economics Best of Benzinga
View Comments and Join the Discussion!