What Is the Source of Samsung's Anti-Apple Campaign?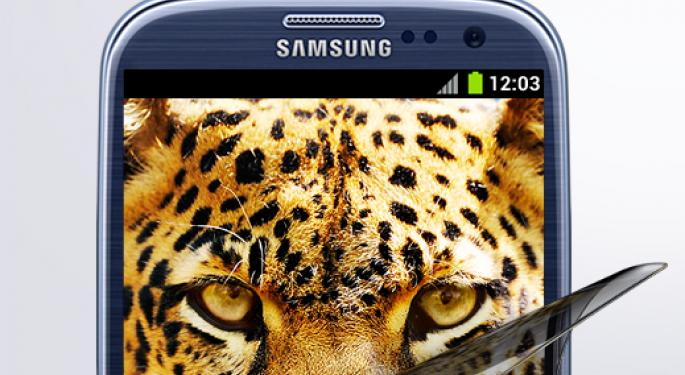 Samsung is continuing its anti-Apple (NASDAQ: AAPL) campaign with a new slate of ads that mock its leading competitor, as well as the people who line up to buy its products.
On its Twitter page in the United States, Samsung has published an image with both an iPhone and a Galaxy S III that reads, "It doesn't take a genius." That message, which features a link to one of the company's infographics, has been retweeted more than 250 times.
Last week, The Verge uncovered several photos that were reportedly taken from the set of a new Samsung commercial. The images show what appears to be a mock Apple Store, with signs that urge people to "join the crowd."
This is not the first time that Samsung has made fun of Apple. The company launched a lighthearted attack against Apple last year, hoping to diminish the hype for the iPhone 4S.
In that video, dozens of people are lined up in front of a store, waiting to buy some hot, new product. "I'm so amped I could stay here for three weeks," one guy remarks. "If it looks the same, how will people know I upgraded?" another asks.
Halfway through the ad, the crowd notices a woman with a Galaxy S II. Soon they spot other people with Samsung's phone and begin to question their decision to wait in line for another Apple product.
This, of course, is a work of fiction. Anyone who has ever waited outside an Apple Store knows that there are not any competing products that could get the crowd to move or second guess their decision. When people get in line to buy a new Apple product, they have already made up their mind about the purchase.
In many ways, Samsung's ads are preaching to the choir. The company may earn chuckles from its own fans and gain a little bit of press from the media, but these ads will not persuade consumers from buying new Apple products.
There is also one downside to the anti-Apple campaign. In trying to make fun of its competitor, Samsung is losing sight of the ultimate goal, which is to convince consumers that it builds superior products.
Follow me @LouisBedigianBZ
Posted-In: Apple Galaxy S II Galaxy S III iPhone 5 SamsungNews Tech Best of Benzinga
View Comments and Join the Discussion!