Chrysler Offers New Models, General Motors Gives Opel Ultimatum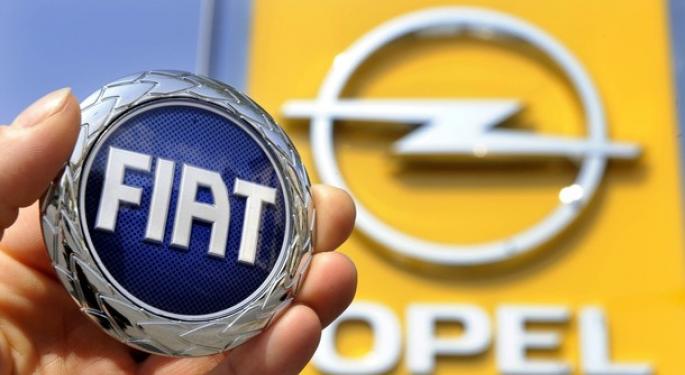 Detroit's automakers General Motors (NYSE: GM) and Chrysler (OTC: FIATY) have been a part of many turnaround stories in recent news, from new models to recalls and managerial change-ups.
As of late, each company has made tremendous efforts to maintain market share while increasing competitiveness among brands, versus the foreign competition. Chrysler Chief Executive Officer (CEO) Sergio Marchionne has been quoted saying, "We cannot afford to stop," at the company's most recent event, finishing up with, "We can't afford to rest."
As a result, Marchionne revealed the company's latest lineup of new models at an event in Las Vegas on Monday.
The current 200 sedan will be joined by a smaller 100 model, (derived from the previously released Dodge Dart), with direct aim at the popular offerings from Toyota (NYSE: TM), Honda (NYSE: HMC) and Hyundai. There are also pending releases of a four-door Fiat called the 500L, a battery operated Fiat, a smaller Jeep model (currently unnamed) and the new Jeep Liberty replacement that is anticipated to get 30 miles per gallon.
New models are not all Chrysler is offering. Along with innovative design, increased structural rigidity and ride/handling improvements will be made as well in order to give the cars that more "solid" feeling that foreign brands are praised so highly for.
These announcements and Chrysler's recent release history have resulted in a 24 percent increase in sales over the year ago period, boosting the company's market share from 10.3 to 11.1 percent, as reported by AutoData.
The 200, (a rebadged Chrysler Sebring), will receive a $2 billion investment for improvements. These improvements will include powertrain offerings and better interiors with ambient lighting and "quilted" leather to give the cars a "plush" feel -- hopefully not reminiscent of Ricardo Montalban's endorsement of "soft Corinthian leather" in the 1975 Chrysler Cordoba.
These releases hope to provide stability for the Chrysler company, much like Steve Girsky hopes to stabilize the business of General Motors belonging to its Opel unit. The "spruce goose" has been struggling overseas lately, despite fashionable designs brought to the states by Buick and formerly Saturn. Since 1999, GM has lost $16.8 billion thanks to Opel, and Girsky has a long road ahead of him to bring the segment back to profitability.
Director of the Center of Automotive Management Stefan Bratzel was quoted saying that Girsky's future with GM depends on his reorganization of Opel being successful, otherwise he may use the same door to leave the company as Joel Ewanick and David Lyon did.
Girsky is committed to fixing Opel and increasing market share, as he opposed selling off Opel in 2009. After being appointed to Head of General Motors' European Operations in July, he is essentially taking direct responsibility for the outcome of this attempt. The first half of 2012 saw a 15 percent drop in deliveries and since its peak market share in 1993 of 12.6 percent, Opel's share has dropped to 6.9 percent.
Luckily, Opel's designs are not at stake and have proven successful here in the United States with the Buick Regal and previous Saturn VUE, both of which were incredible improvements over previous incarnations of the models.
Hopefully the pressure will keep Girsky afloat with his Opel plan and can turn the company, (along with sister Vauxhall), around in time to keep his job and those fresh designs coming in from overseas. With 23 new models expected by 2016, there will certainly be plenty of opportunities for the company to turn around.
View Comments and Join the Discussion!
Posted-In: Chrysler 100 Chrysler 200News Offerings Management Economics Trading Ideas General Best of Benzinga