Stocks Chris Christie Would Pick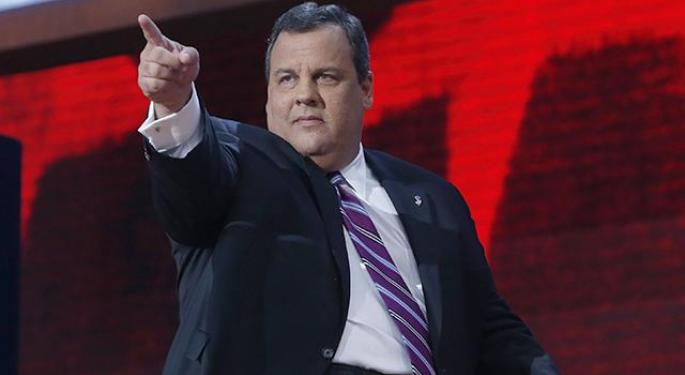 Editor's note: This is the first in a series of articles that will be appearing on Benzinga.com over the next few months.
Governor of New Jersey Chris Christie is famous for many things, among them being the first Republican in 12 years to win a statewide election for governorship in 2009 (preceded by none other than Jon Corzine), delivering the keynote address at the 2012 Republican National Convention, serving as the United States Attorney for the District of New Jersey and for being a potential candidate to run as the Republican Presidential nominee for 2012, to name a few.
But being a proud Newark-er (where he was born and raised) has afforded Christie a portfolio of prideful stocks from New Jersey based-companies that would stand to benefit from Mitt Romney and Paul Ryan winning the 2012 presidential election.
Here is what would likely appear in his portfolio, should the Republican party win the 2012 presidential election.
Telecommunications
Cell phone tracking was an essential piece for one of Christie's most famous cases he ever prosecuted, the Hemant Lakhani terrorism case in 2005. For these purposes, Christie is a likely proponent of legal intervention in regards to cell phone data contents, as he was able to use said information to achieve a conviction of Hement Lakhani for 47 years in prison. Telecom stocks would include Clearwire (NASDAQ: CLWR) (down 1.79 percent year to date), Sprint Nextel (NYSE: S) (down 0.51 percent year to date), MetroPCS (NYSE: PCS) (down 0.82 percent year to date), Verizon (NYSE: VZ) (down 0.56 percent year to date) and AT&T (NYSE: T) (down 0.19 percent year to date). With Christie supporting Romney and Ryan in 2012, the legality surrounding the involvement of cell phone tracking in major lawsuits will remain protected.
Business Solutions
Automatic Data Processing (NASDAQ: ADP) currently sits as one of four U.S. companies to have a AAA credit rating from Standard & Poor's and Moody's. For fiscal year 2011, the company reported $9.8 billion in revenues, (compared to its public offering in 1961, which reported approximately $400,00 in revenues), and is based in Essex County, New Jersey. Shares are up 7.4 percent year-to-date and are sitting near the 52-week high of $58.79 at $58.07. ADP continues to be a strong stock that continues to increase in value. After all, the company processes paychecks for ~10 percent of the U.S. workforce and has done so since 1985. Shares have increased 71 percent in the last ten years.
Data Tracking
Moody's Corporation (NYSE: MCO) has outperformed New Jersey-based Dun & Bradstreet (NYSE: DNB) year-to-date, with shares sitting currently up 15.8 percent versus Dun & Bradstreet's 7.9 percent. Since lawyers rely heavily on meticulously documented information for high-profile cases, Moody's could be a pick for former attorney Christie due to the rise in share value in 2012. Ironically, Moody's has spun off in the credit reporting field since its purchase by Dun & Bradstreet in 1962.
Dun & Bradstreet contains a database of over 200 million companies internationally, along with contact information from public records, trade references, interviews and publications. Over the last five years, shares have actually decreased 17.2 percent due to risk management solutions; i.e. the company lacks in the product innovation sector, but still provides a basic, reliable service. The aspects of Dun & Bradstreet's business covers risk management, sales/marketing and supply chain management.
Hospitality
New Jersey-based Wyndham Worldwide (NYSE: WYN) is the world's largest provider of travel-related products, (think hotel chains), for businesses and consumers. Year-to-date, the company currently sits up 36.66 percent. In early August, shares were up 40 percent, compared to S&P 500 estimates of 11 percent, with Goldman Sachs analysts believing that shares still have room to grow. Should Christie decide to run for president in 2016, he will certainly be taking advantage of any rewards programs offered, as he will be traveling to many of the company's 6,900 hotels globally.
This diverse portfolio of several well-performing stocks should continue its upswing, (as forecasted by analysts). Come November 2012, these facets of business would stand to stay strong under the Republican umbrella and undoubted political influence from Governor Chris Christie.
Posted-In: 2012 presidential election 2012 republican national conventionNews Politics Legal Economics Trading Ideas General Best of Benzinga
View Comments and Join the Discussion!