Apple's iPad Will Finally See Competition This Fall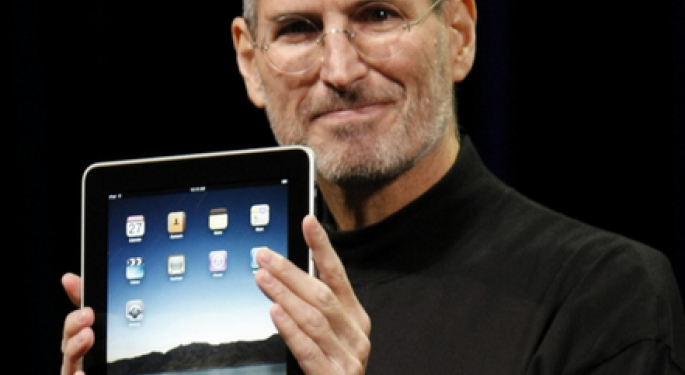 Since Apple (NASDAQ: AAPL) released its iPad in 2010, tablets have exploded onto the scene as one of the fastest growing segments of the personal computing space.
Just over two and a half years later, the iPad remains the dominant device, maintaining a near monopoly over the 10-inch sector.
The iPad has only really been challenged by Amazon's (NASDAQ: AMZN) Kindle Fire and Google's (NASDAQ: GOOG) Nexus 7. Both have managed to carve out a niche in the market by offering value-conscious consumers a cheaper (albeit smaller) alternative to the iPad.
Amazon unveiled its Kindle Fire last fall. The Fire is a souped up version of the online retailer's popular Kindle e-reader. The Fire runs a modified version of Google's Android operating system, allowing users to browse the internet and run many popular Android apps while still enjoying the benefits of Amazon's Kindle store.
Then, this summer, Google put out a tablet of its own. The Nexus 7 -- manufactured by Asus -- came loaded with the latest version of Android and seemed to generate decent buzz (and sales) at launch.
But the iPad has hung on by offering the quality experience Apple is known for in the larger form factor. Still, that could change this fall.
In about two months, Microsoft (NASDAQ: MSFT) is set to enter the market when Windows 8 debuts. Alongside the launch of Windows 8, Microsoft will release a tablet of its own: Surface.
Not a lot is known about Microsoft's Surface, but the device will sport a 10-inch screen and will likely have similar internal hardware to Apple's iPad. Most interesting is the price point: Rumors have surfaced suggesting that the base model of the Surface could come in at as low as $199 -- far less than the $500 iPad.
In addition to Microsoft's own Surface, more tablets running Windows 8 will appear on the market from Microsoft's partners like Hewlett-Packard (NYSE: HPQ) and Dell (NASDAQ: DELL) this fall. Even Samsung will be onboard with Windows 8, despite its so-far tight embrace of Google's Android.
Beyond Windows 8 tablets, the iPad may have to deal with internal competition.
Although not yet confirmed, much has been made of a forthcoming "mini iPad." Presumably, such a device would have a 7-inch screen and would carry a lower price tag.
Apple may consider entering the 7-inch tablet market in a bid to capture those consumers who have opted for the cheaper Google and Amazon tablets. Yet, with the move, it could be boosting competition for its own larger iPad.
There's no denying Apple's following: many consumers swear by the experience and will purchase nothing else. Thus, many who bought the iPad may have preferred a smaller tablet like the Fire, but could not give up Apple's quality. However, if they are now given a choice, those consumers could go for the smaller iPad -- reducing the demand for the larger iPad and lowering Apple's overall margins.
Further, Amazon could have more up its sleeve. With the summer rapidly drawing to a close, the company is likely on the verge of updating its Kindle Fire lineup. On Thursday, Amazon put out a statement declaring that the Kindle Fire was "sold out."
The timing of the announcement is interesting given that Amazon will host a press event next week, September 6th. It is unknown what Amazon will be unveiling, but an updated Kindle Fire seems likely.
This holiday shopping season, consumers shopping for tablets are likely to have a variety to choose from. Although many may still opt for the iPad, numerous competitors could cut into the iPad's market share.
Posted-In: Acer Android iPad Kindle FireNews Tech Trading Ideas General Best of Benzinga
View Comments and Join the Discussion!