Best Buy Gives Schulze Two Seats, Expects Offer Soon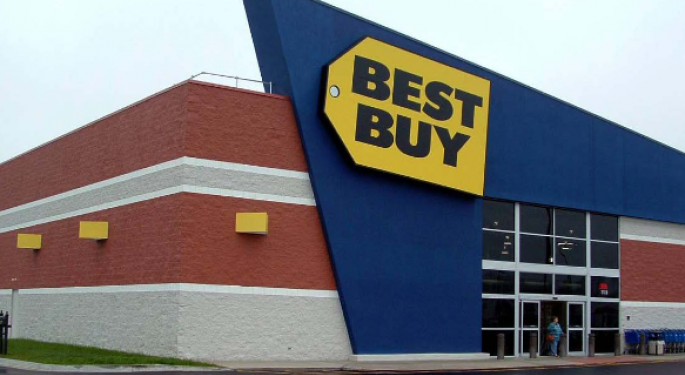 Best Buy (NYSE: BBY) revealed this week that it will be giving company founder Richard Schulze two seats on the board, as well as access to the private information that he has requested as he looks to make a takeover offer.
Talks broke earlier in August regarding a potential deal between Schulze and Best Buy, indicating that an arrangement would not be agreed upon for quite some time. However, last week negotiations were resumed and they apparently went very well for Schultz, as he has managed to reach a deal with the company that he helped create. Schulze will be able to put together an investor group and eventually make an acquisition offer.
It is not yet known what Schulze's takeover would mean for new Chief Executive Officer Hubert Joly, who is due to replace interim CEO Mike Mikan in early September. Joly has a track record of turning companies around, and the board hopes that he can carry that tradition forward under his new title.
At the end of July, Benzinga reported that Schulze was looking into the possibility of taking the company private. Some analysts believe that Schulze was angry over having lost control of the board in the wake of allegations that he failed to notify the board about the alleged inappropriate behavior of former CEO Brian Dunn.
If Schulze does want to take over completely, he will have to pay a premium above the retailer's current market capitalization near $6.5 billion. This price could be between $9 billion and $12 billion, a sum that Schulze could face difficulties raising.
"I continue to believe in Best Buy and its future--and care deeply about its customers, employees and shareholders," Schulze said in a statement as he left. "There is an urgent need for Best Buy to reinvigorate growth by reconnecting with today's customers and building pathways to the next generation of consumers."
Thanks to this new agreement with Best Buy, Schulze has a way back in. He can now review non-public financial information, after which he has 60 days to submit a formal offer. That is one deadline we can be fairly sure Schulze will not be missing.
On Tuesday morning, Best Buy traded at about $17.90, up roughly 3.2 percent.
Posted-In: News Offerings Retail Sales Topics Management M&A Markets Trading Ideas Best of Benzinga
View Comments and Join the Discussion!