Luxury Cars Fail Crash Test; Ford Recalls More Vehicles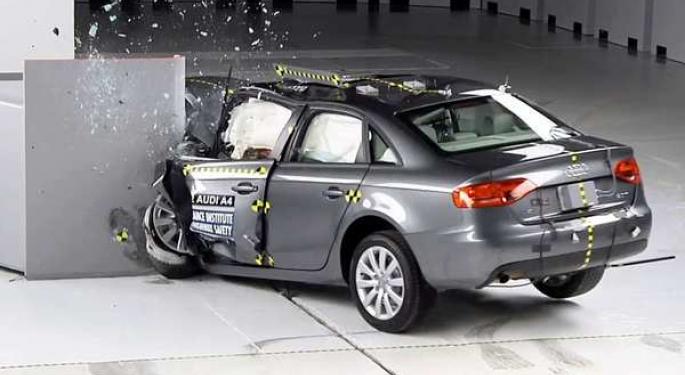 The auto industry has had its fair share of trials to overcome as of late, as trusted motor companies like Ford (NYSE: F) and Toyota (NYSE: TM) have dished out many recalls throughout 2012. Now drivers may feel the need to heighten their skepticism, as several luxury vehicles have failed to pass a new crash test administered by the Insurance Institute for Highway Safety.
According to The Los Angeles Times, concerns have been raised over the fact that several high-end vehicles may not be able to protect drivers and passengers from possible injuries, despite hefty price tags and usually sterling reputations. Expensive brands such as Mercedes, Audi and Lexus were just a few of the eight 2012 models that failed to pass.
But just how crucial was the test to begin with? While some could argue that any motor vehicle testing failure is critical regardless of the circumstance, this particular assessment appears to be of the utmost importance. The new crash simulation tested front-corner impacts to determine what would happen if a sedan hits another vehicle or object.
What is even more frightening for drivers is how long these marginal-to-poor ratings could take to correct. David Champion, director of Consumer Reports' auto testing program, told The Los Angeles Times that it could very well take five to 10 years before each manufacturer determines how to pass the test – numbers that will surely fail to impress those driving these particular models.
Protection has been a consistent topic of discussion amongst automakers as of late, with the media doing its part to alert drivers to recent vehicle malfunctions and recalls. That being said, Ford announced yet another recall on Tuesday, this time in India.
The Detroit-based company is recalling approximately 130,000 of its most popular cars overseas for defects that can cause fires and other issues, according to ABC News. Ford will examine and replace a hose in many Figo and Classic cars, along with examining several thousand models for a faulty rear twist beam.
The automaker is recalling Figo and Classic cars that were manufactured between January 2008 and February 2011 for inspection.
Announcing another recall could have potentially negative implications on Ford stock, which is struggling to add value as of late. The company closed yesterday at $9.40, down about 15 percent year-over-year.
As more issues continue to surface amongst car manufacturers and the level of safety they provide, drivers are left to question who they should trust their lives to when on the open road. Thus far, General Motors (NYSE: GM) may seem like the safest option, as the company has remained mostly mute throughout the recall and crash test frenzy.
View Comments and Join the Discussion!
Posted-In: ABC News Audi David Champion Insurance Institute for Highway SafetyNews Topics Global General Best of Benzinga