Invesco Plans to Seize Control of JJB Sports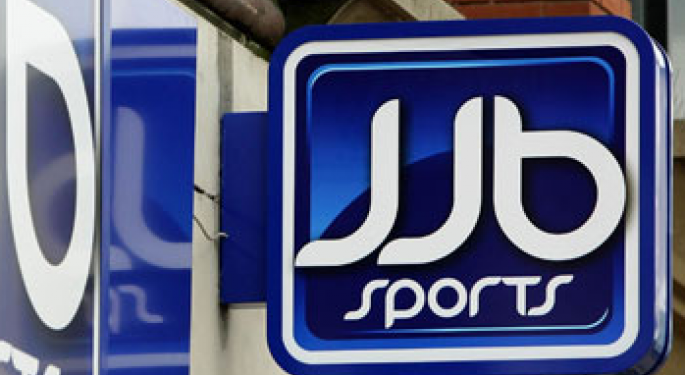 Global investment company Invesco (NYSE: IVZ) has proposed a deal that would see it take on British retailer JJB Sports' outstanding debt.
That debt is currently held by Lloyds Banking Group (NYSE: LYG) and Invesco, currently with a 47.3 percent stake in JJB Sports, would then effectively take control. According to Fox Business, the plan would then be to work with Dick's Sporting Goods (NYSE: DKS) on a restructuring plan.
It has been a busy week for Invesco; on Thursday, the company revealed plans to introduce two new ETFs. Invesco's PowerShares unit is the fourth largest U.S. ETF sponsor.
In 2011, JJB Sports made losses of $158 million and coupled with the sudden departure of CEO Keith Jones, it is obvious that changes are necessary. Only three months ago, the company received a partial lifeline when it was boosted with $31.14 million from Dick's Sporting Goods and another $15.57 million from the Bill and Melinda Gates Foundation.
For Dick's Sporting Goods, the investment makes complete sense. A deal with JJB Sports is actually an opportunity for both companies to spread their business across the Atlantic without really having to diversify.
There have been no suggestions at the time of writing that the British company will take on the Dick's Sporting Goods name, but that is surely a possibility.
A British sporting goods company certainly couldn't sell ammunition due to gun laws over there. However, that could change in the U.S. too, as a petition is being circulated by a Mississippi teacher asking the company to stop selling high-powered ammunition in light of the recent Colorado movie theater tragedy.
For now, all of that is academic. We know that Invesco wants to take control of JJB Sports and we know that it wants to involve Dick's Sporting Goods in a shake-up. We will have to wait to find out exactly what that shake-up will involve.
On Monday, Invesco Ltd. traded flat at about $22.60. Dick's Sporting Goods traded at about $51.50, up roughly 0.5 percent.
Follow me @BCallwood.
View Comments and Join the Discussion!
Posted-In: Bill and Melinda Gates Foundation Fox Business JJB Sports Keith JonesM&A News Markets Trading Ideas Best of Benzinga