Oil Spikes After Reports Circulate That Syrian President Bashaar al-Assad Died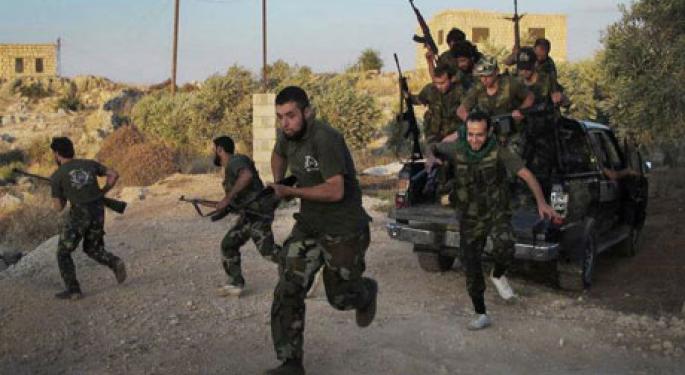 WTI Crude futures spiked early Monday on reports that a Russian official had tweeted that Syrian President Assad had been injured or killed today in a fight. The news of a potential break down of the country into full-blown civil war sent oil higher by about $1 per barrel. However, the Russian government has since issued a report denying any comments on Assad's health, hinting that the Twitter account was phony.
Turmoil in the Middle East usually preempts a spike in oil prices, as traders fret that each blow-up of tensions will lead to a massive shut down of production. Recall in 2011 Libya's production shut down as rebels fought then leader Muammar Ghaddafi's military. At that time, the shut down in oil led to a spike in oil prices globally, notably in Brent Crude. This news follows the resignation last week of U.N. envoy to Syria Kofi Annan and reports of increased fighting between rebels and Assad's forces.
Further escalation of tensions in the Middle East could send oil higher from these levels. Syria continues to slip further into full-blown civil war and the death of its leader could send different factions of the military and rebels scrambling for power. Also, the risk of a preemptive Israeli strike on Iran still looms and instability in Iraq could erupt at any time. Any of these events could bode well for oil prices and bad for consumers at the pump.
Posted-In: Bashar al-Assad Kofi Annan Muammar Ghaddafi SyriaNews Commodities Global Markets
View Comments and Join the Discussion!