Algorithm Trading Responsible For Another Glitch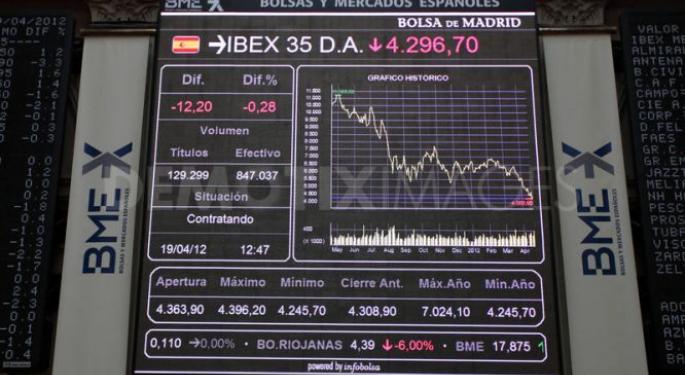 Spain's benchmark Ibex 35 Index was halted for nearly five hours earlier Monday after a trading glitch caused trading in Madrid to stop. The Bolsas y Mercados Espanoles SA, the company that oversees the stock exchange, could not comment on the nature of the glitch and only said that trading had been halted due to a technical glitch.
Investors have almost become accustomed to trading glitches, many of which go without regulators, investigators and even the companies knowing exactly what happened. Even though the SEC published a report of the flash crash of May 2010, many don't trust the official reason and to this day there is no agreed upon cause of the crash. During the crash, the Dow Jones Industrial Average plummeted nearly 1,000 points and some stocks lost nearly all of their value due to errant trades. The flash crash led to the implementation of single stock circuit breakers.
Early in 2012, there were also a few stocks that traded in wild patterns for a matter of seconds, forcing the SEC to cancel trades in stocks such as Apple (NASDAQ: AAPL). Those errant trades preceded the failed IPO of Bats, the nation's third largest exchange. In an attempt to launch an IPO on its own exchange, the stock flash crashed to a price of $0 in a matter of 700 nanoseconds, or effectively "in an instant".
Markets are now focused on the trading glitch that nearly forced Knight Trading Group (NYSE: KCG) to go bankrupt and this glitch only adds to the debate of the use of high frequency trading (HFT) and algorithmic trading. The debate over HFT has been raging for years now and eventually the debate needs to be held in a public forum. HFT adds liquidity and can reduce bid/ask spreads in markets, making buying or selling stocks more efficient for individuals. However, HFT can also create volatility, as seen by these glitches and flash crashes, which can make markets unfair to individuals who cannot exit positions as quickly as computers can.
The Spanish Ibex has since resumed trading and shares rallied approximately 1.6 percent. The exchange operator is still investigating the cause of the glitch.
View Comments and Join the Discussion!
Posted-In: BATS flash crashNews Events Global Hot Intraday Update Markets Best of Benzinga