eBay Beats Amazon in Same-Day Shipping Race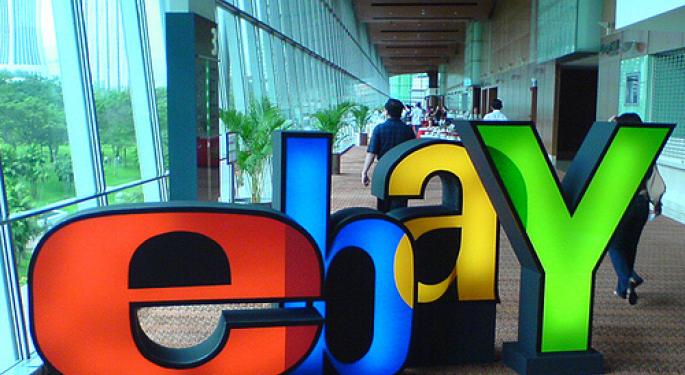 Similarities between online retail platforms eBay (NASDAQ: EBAY) and Amazon.com (NASDAQ: AMZN) continue to evolve, with both companies taking steps to offer same-day shipping on some items. Accordingly, eBay has launched "eBay Now", a service that will provide $5 same-day shipping on products from local stores such as Macy's (NYSE: M), Best Buy (NYSE: BBY) and Target (NYSE: TGT).
eBay's newest venture has already begun, as select San Francisco, California residents were given the option to take advantage of eBay Now starting on Sunday. As the company appeals to the masses through inexpensive and quick delivery, Amazon is rumored to be working on a same-day shipping setup of its own.
Amazon has been making deals with state governments to collect sales tax in a number of states -- a step made neccessary by its efforts to build distribution centers in those states. These warehouses could allow the retailer to offer same-day shipping, despite comments from CFO Tom Szkutak claiming that the company does not see a way to do same-day delivery on a broad scale.
Presently, Amazon offers competitive shipping rates with Amazon Prime, a service that provides subscribers with free two-day delivery and $3.99 next-day delivery for $79 a year.
According to TechCrunch, same-day delivery may not make sense for either company as expenses alone could cause both Amazon and eBay to reconsider the idea.
"The distribution network required to execute same-day service could be immensely expensive for Amazon, and even more so for the less-equipped eBay. Failure to produce a reliable or affordable service could be a big waste of resources," TechCrunch said on Sunday.
Despite the cost to the companies, online shoppers have always required fast delivery and eBay's quick launch of its same-day shipping iOS app has certainly raised the stakes for the competition. Consumers could be more apt to use this service over others, as often times their package(s) may arrive just one hour after the purchase was made.
Much like a cheesy delivery from Domino's Pizza (NYSE: DPZ), eBay is closing in on instant consumer gratification with what appears to be a delicious deal. Whether or not the company can afford such a pricey venture remains to be seen.
eBay closed Friday at $44.50, up almost 47 percent year-to-date, while Amazon closed at $234.97, up nearly 36 percent year-to-date.
Posted-In: Amazon Prime eBay Now ForbesNews Retail Sales Topics Tech General Best of Benzinga
View Comments and Join the Discussion!