General Motors Offers Financing to Subprime Buyers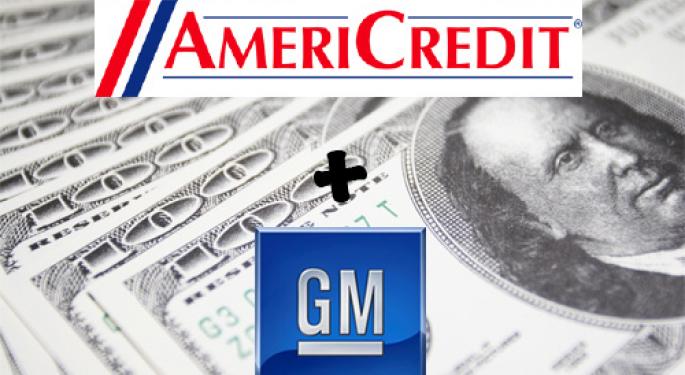 General Motors (NYSE: GM) will continue efforts to increase vehicle sales and is expected to release another purchase program for buyers with low credit scores.
This same program was introduced back in 2010 after General Motors purchased AmeriCredit Corporation for $3.5 billion in efforts to gain access to subprime buyers. At the time, General Motors didn't have the same access to subprime lending as other companies like Honda (NYSE: HMC) or Toyota (NYSE: TM), and subprime buyers only made up for about 1 percent of total vehicle sales versus Honda's 20 percent.
Currently, that percentage of General Motors' subprime buyers has grown to more than 8 percent since the purchase of AmeriCredit, and now the carmaker is about to release the program again.
Vehicles included in the promotion are likely to include 2012 models of the Chevrolet Malibu, Cruze and Silverado. Should the program follow similar guidelines as the release in 2010, annual percentage rates (APRs) will be near 12 percent with money down for buyers with a credit score lower than 650.
General Motors showed soft vehicle sales during the second quarter of 2012, reporting that sales only grew a modest 1.4 percent from the year ago period, (falling far below analyst estimates of 11 percent growth).
According to J.P. Morgan, brand-specific vehicle sales showed Chevrolet sales up 1 percent, Cadillac up 31 percent, Buick down 8 percent, and GMC down 1 percent. Since the program is aimed mostly at budget-priced Chevrolet, General Motors may hope to see sales grow akin to Cadillac's numbers.
General Motors hasn't been shying away from news surrounding management changes, vehicle sales, new partnerships and its "Chevrolet Confidence" program which offers haggle-free pricing on all 2012 model year Chevrolets through September 4. All 2012-2013 model Chevrolets will be sold with a money-back guarantee 30-60 days after the sale and with fewer than 4,000 miles. This program was unveiled previously in 2009.
General Motors has managed to avoid news of recalls, unlike Ford (NYSE: F), Honda and Toyota. So perhaps "Chevrolet Confidence" has meaning for both buyers and the seller. General Motors stated that there will be no change to its current marketing strategy, according to The Detroit News. Understudy Global Chief Marketing Officer Alan Batey announced Wednesday that the company will continue moving forward with no changes despite the departure of marketing guru Joel Ewanick.
View Comments and Join the Discussion!
Posted-In: Alan BateyNews Financing Management Events Success Stories Pre-Market Outlook Trading Ideas Best of Benzinga