Is Google Looking to Take Down Comcast with its New Internet Service?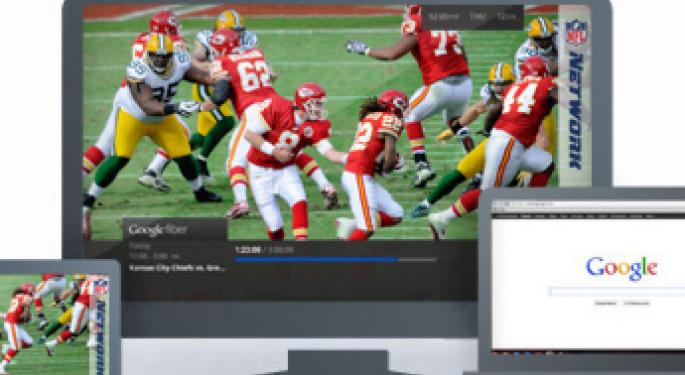 Google (NASDAQ: GOOG) has officially unveiled Google Fiber, a new service that could give Comcast (NASDAQ: CMCSA), Verizon (NYSE: VZ), AT&T (NYSE: T), and Time Warner Cable (NYSE: TWC) a run for their money.
Designed to provide its users with a faster, higher class of Internet connectivity, Google Fiber offers download and upload speeds of up to one gigabit per second. Starting at $70 per month, the service is not plagued by any data caps. Comparatively, Comcast currently employs a data cap of 300 gigabytes. At last check, AT&T employed a similar data cap for its U-Verse Internet service.
Google requires subscribers to sign a one-year contract. The company also notes that users will be charged taxes and fees, the latter of which have not been disclosed. But fees are a common byproduct of the Internet and pay-TV industries. As long as consumers continue to pay these fees, corporations will continue to apply as many as they can.
For $70 a month, users also get a free Google Network Box that includes four gigabit Ethernet ports and Wi-Fi with speeds up to 360Mbps. This package also comes with 1TB of Google Drive space.
Google did not stop with Internet access, however. The company is also offering a new Internet/pay-TV combo service that features more than 150 channels, including A&E, Animal Planet, BET, CBS Sports Network, CMT, Food Network, Lifetime, MSNBC, MTV, Showtime, Spike TV, and Starz. Basic channels like ABC, NBC, CBS (NYSE: CBS), and Fox are also included with the service, which requires a two-year contract and costs $120 per month. (HBO, Cinemax, and AMC (NASDAQ: AMCX) are currently absent from the list.)
This package comes with a Nexus 7 tablet, a Google TV box (for watching TV, of course), a Google Network Box, and a Google Storage Box, which is essentially a DVR with two terabytes of storage. Google said that users will be able to download up to 500 hours of HD-quality video. They can also use the Storage Box to record eight shows simultaneously.
Google also offers a so-called "free" Internet package that requires a one-time construction fee of $300, or $25 per month for 12 months, plus taxes and fees. Google said that its free service is guaranteed "for at least seven years." But there is a catch: download speeds max out at 5Mbps, while upload speeds only go up to 1Mbps. There are no data caps, but at speeds that slow, few users will care.
For the cost-conscious consumer, $300 is not a bad deal for seven years of Internet. For everyone else, Google has a much more powerful (and much more expensive) offering that severely undercuts similar services offered by Comcast and Verizon.
However, because Google Fiber is so new, it is only available in Kansas City, Kansas and Kansas City, Missouri.
On its official blog, Google is encouraging potential subscribers to "rally" their neighbors and pre-register for Google Fiber by September 9. On September 10, Google will announce the results.
Investors do not seem to be particularly worried about what Google Fiber could mean for existing broadband and pay-TV service companies. But that could soon change if Google is successful in delivering on its one gigabit promise.
Follow me @LouisBedigianBZ
View Comments and Join the Discussion!
Posted-In: AT&T Comcast Google Google Fiber time warner cableNews Success Stories Tech Best of Benzinga