How To Play Apple Suppliers After Its Earnings Miss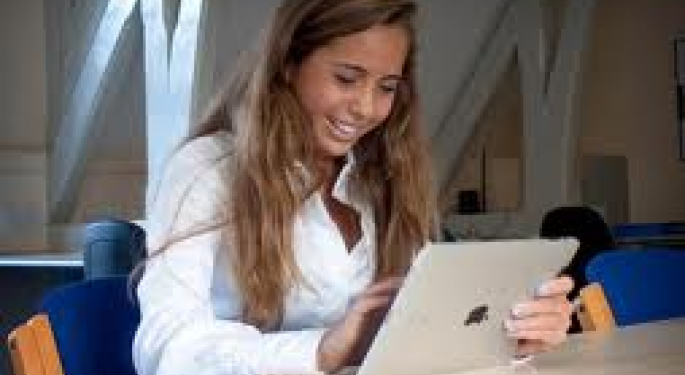 Apple's (NASDAQ: AAPL) earnings miss has investors looking ahead to the iPhone 5 launch – something Wells Fargo analysts have touted as the "biggest product launch in consumer electronics history."
That has potential implications for Apple suppliers – some good, and some perhaps not so good.
Here's a trader's look at some of the most important Apple supplier stocks, and whether there may be a chance to buy them on the cheap due to low expectations for Apple's September quarter:
Skyworks Solutions (NASDAQ: SWKS): The cell phone chipmaker already reported a better-than-expected result for the second quarter, and in-line revenue growth. What's to like about the stock is that it has exposure to the iPhone 5, as well as Samsung's Galaxy S3, which has already sold 10 million units since late May. What's more, it also has chips in the iPad 3 released earlier this year – the one Apple product that is strongly exceeding shipment expectations. Yet it also has exposure to Nokia (NYSE: NOK), which seems to be losing share. Skyworks has extremely strong technical support at $20, going back to 1993. It probably won't dip that low in the second half, even in a difficult tape. The breakout above $30 from its consolidation range since March may offer good risk-reward as a position trade.
Cirrus Logic (NASDAQ: CRUS): With more than 60 percent of revenue tied to Apple, this is certainly a potential pullback play. Cirrus is expected to be a component supplier for the iPhone 5, as well as for iPads and Macs. Cirrus has not out-gained Apple significantly since late 2010. It was not a big outperformer vs. Apple on the launch of the iPhone 4S last fall. Still, it's a a good stock at the right price. It's very wedded to Apple – uncomfortably so. So it may be more of a trading stock than a long-term investment. With that in mind, it will likely take a hit on the Apple miss. There is little near-term volume support below $26; Technicals suggest it could drop to $24 in coming days.
Triquint Semi (NASDAQ: TQNT): This is a stock with margin and share loss concerns outside of Apple. Also, there is the threat that Triquint could have less to do with the iPhone 5 than it did with the iPhone 4S. The company reports on Wednesday. The company is expected to post a loss. Expectations are low, so there is a chance it could beat. But guidance could be weak for Q3, setting up a back-end loaded quarter. Watch the earnings report. Disappointing guidance could set up a slide to new year lows.
Arm Holdings (NASDAQ; ARMH): The stock is surging about 7 percent higher, as it just reported higher-than expected EPS and revenue, and guided its fiscal 2012 revenue in-line with expectations. Mobile is strong, and it could benefit from Apple launches. Still this is a company with exposure to a declining PC business, and the second-half outlook is murky for many chip plays. It may be a candidate to fade (short) near volume resistance at the $28 level.
Qualcomm (NASDAQ: QCOM). This is an investors' stock, with a upward-rising cross-channel going back to 2005. The long-term trend remains up and to the right. It helps that Qualcomm has exposure to high-end cellphones from both Apple and Samsung, and should continue o benefit from the trend of larger smartphone displays. There would be a more compelling entry for investors and long-term traders near the $50 mark – near the bottom of the cross-trend.
Omnivision: (NASDAQ: OVTI) It provides camera chips to a range of high-end tablets and smartphones, but also has exposure to lower-margin phones with cameras. The stock has had some epic swings over the years. The next swing could be to the downside if it cannot hold the $12 level – an important support going back to 2005.
ZAGG (NASDAQ: ZAGG): This is not an institutional holding, with its small cap and very small float of 23.4 million shares. Yet it offers inexpensive growth, with a PE/G ratio of 0.5. The company reports on August 2. The third-quarter could be tough, given Apple's report. But ZAGG is selling a lot of iPad cases, and could be selling a lot more of those if Apple does launch an iPad Mini in time for the holidays. Keep an eye on volume support around $9 to $9.50 as a potential pullback entry.
Posted-In: News Hot Best of Benzinga
View Comments and Join the Discussion!