Toyota Production Reaches 200 Million Units Despite Recalls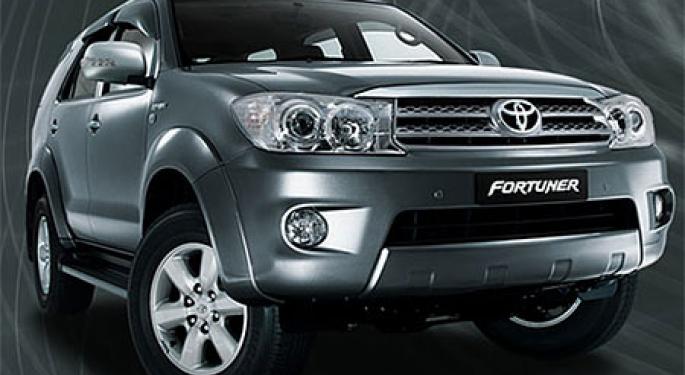 At a time when customers would likely be questioning their loyalty and trust in an automaker that continuously recalls its vehicles, Toyota (NYSE: TM) has still managed to sell an incredible amount of vehicles with June 2012 marking the company's 200 million produced vehicles.
The foreign car distributor reached 10 million units back in 1972 as growth continued to accelerate up in the years following. Based in Japan, Toyota's almost 77 years of operation paid off last month as the company reached a milestone.
"I wish to express my heartfelt appreciation to our customers the world over who made it possible for us to reach this milestone," Toyota President Akio Toyoda said.
Toyoda went on to say, "I also have the most profound respect and gratitude for the efforts of all persons who were involved in developing, manufacturing, and marketing Toyota and Lexus vehicles over the years. We are determined to make our cars even better, to continue to give our customers the best possible product."
Continued innovation would certainly increase sales and production as the company has become somewhat notorious for its consistent recalls and problematic vehicles. In 2010, Toyota recalled about 5.2 million vehicles for its pedal entrapment and floor mat issue, or about 2.6 percent of total vehicles sold by the automaker.
The recalls did not end there, with two more issues occurring in the past few months alone. Back in March, the company asked that nearly 700,000 vehicles be recalled for possibly damaged airbags in pick-up trucks and defective brake lights in sedans and crossovers.
Perhaps the most shocking of the latest recalls is yet another pedal entrapment issue that prompted federal regulators to force the vehicle distributor into recalling 154,000 Lexus SUVs at the end of June. The National Highway Traffic Safety Administration asked that the vehicles be recalled as there are once again serious safety issues with the floor mats and accelerator pedals.
While unfortunate shortcomings continue to plague the safety standard upheld by Toyota, U.S. competitor Ford (NYSE: F) has recently had its fair share of recalls issued as well that may be taking some of the heat off of the foreign automaker.
Throughout July, Ford has had to recall more than 700,000 2001-2004 Ford Escape and Mazda Tribute models and over 10,000 2013 Ford Escape models on the risk of – you guessed it – pedal and floor mat interference. The motor company later said that the 1.6 liter four cylinder engines of the 2013 model could cause fires due to faulty fuel lines, a recall that affects more than 11,000 vehicles.
As automakers worldwide continue to try and reach a perfected solution for vehicle and customer safety, it appears that sales are not slowing to a detrimental pace anytime soon. Toyota's most recent feat has proven that customers still have confidence in the brand, as 200 million have relied on the company to produce safe and secure vehicles throughout its history.
Toyota closed Monday at 74.23, down nearly 1.20% for the day. Year-over-year, Toyota is trading down almost 13%.
View Comments and Join the Discussion!
Posted-In: cnn money Escape lexus market watchNews Retail Sales Topics General Best of Benzinga