China's iPad Launch Brings 30 to the Store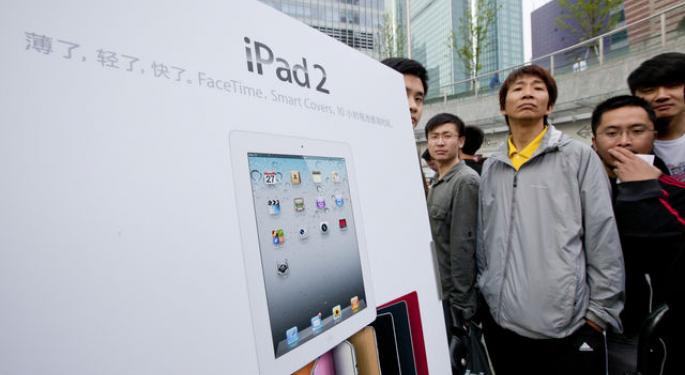 Chinese consumers can breathe a sigh of relief; the newest Apple (NASDAQ: AAPL) iPad has arrived. Legal woes that once halted the promotion and sale of the newest tablet have been settled, allowing techies to now swoop up a fresh version.
Shenzhen Proview Technology received quite a hefty payday from Apple on July 2 to the tune of $60 million dollars. The China-based company declared that it had ownership over the iPad name, which prompted a trademark lawsuit and the ultimate standstill of the introductory Apple product in China.
While the situation itself was an unusual one, what's even more peculiar is the fact that hoards of customers were not camped outside Apple stores waiting to purchase the buzzed-about iPad. In fact, only a few dozen shoppers showed up for the unveiling in Beijing and Shanghai.
As history will show, Apple has regularly experienced a fury of dedicated people who will stand in line for hours waiting for the next "i" product. Some impatient customers have even gone as far as to riot store locations and throw eggs in the past. For better or for worse, the new iPad has seen no such presentation.
"I am very surprised to see there is nobody here waiting," Sun Xufei told the New York Post, standing in line with just 30 customers.
Xufei was the first in line, with a clan of reporters fast outnumbering the amount of people waiting. Conversely, with the madness that went down the last time Apple offered a new product, bystanders would have thought it was the Chinese equivalent to Black Friday.
The journalists never got their juicy scoop this time around as the mood remained relatively calm and pandemonium never ensued. However, this may be just what Apple intended on when it implemented an online reservation system to control store visitors following the infamous iPhone 4S chaos.
Fear not, as future Apple launches in China will likely see a little more hype, as this particular introduction came four months after its U.S. debut.
Meanwhile, anticipation continues to build for the next product unveiling, forcing fanatics into a tireless groan as they wait on the vague iPhone 5 inauguration.
Apple closed Thursday at $614.32, up about 1.33 percent for the day. Friday morning, the company was trading down nearly 0.40 percent.
Posted-In: iPadNews Retail Sales Topics Legal Global Tech General Best of Benzinga
View Comments and Join the Discussion!