Ron Paul Crushes the Market, Outperforms by 9%
Congressman and presidential hopeful Ron Paul is the leading advocate for freedom in the United States. As a member of the House of Representatives, Paul works for a small, constitutional government while advocating low taxes, free markets, and a return to sound monetary policies.
Ever since the economic crisis, Paul has been particularly vocal on the debts and the deficit. He consistently slams the Federal Reserve for over-inflating Treasuries and feeding Washington's appetite for a fiscal policy that he believes has gapped the abyss future generations will have to pay to get out of.
May Jobs Report
This morning, the May jobs report came in much worse than analysts' expectations, printing at +69,000 jobs added during the month, which compared to estimates of +150,000. Equity markets spiked much lower after the report was released; however, gold is currently rallying.
The unemployment rate also increased to 8.2 percent from 8.1 percent.
Looking at the internals, the government slashed 13,000 jobs, with 5,000 of the layoffs coming from the federal level, most related to the Postal Service.
In the private sector, seasonal adjustments subtracted 800,000 jobs, on top of the headline number of +89,000. All in all, this report creates more confusion than it eases. This is only cultivating additional market uncertainty.
Ron Paul vs. Ben Bernanke vs. Inflation
Amid the nasty monthly release, gold futures saw a spectacular spike higher, as hopeful investors now expect with more fruition that the Federal Reserve will announce additional quantitative easing.
Paul has stated that inflation, (which QE can eventually lead to), is just a form of government theft in that it steals people's purchasing power and destroys savings. He notes that the value of the Dollar has declined 98% since the creation of the Federal Reserve in 1913 and that the Federal Reserve has a terrible track record of getting things right.
Back in February, during Ben Bernanke's (Chairman of the Federal Reserve) testimony on Capitol Hill, Paul jabbed at Bernanke saying, "You say inflation is about 2%, I say 9%, let's just call it 5%... inflation is taking money away from the people."
Ron Paul has been a consistent opponent of runaway federal debt, deficit spending, and Federal Reserve policies, and according to Paul, more QE would do more bad than good for the US economy. Paul practices what he preaches, meaning he owns gold - and a lot of it, at that.
Ron Paul's Portfolio
According to the most recent 2010 filing to the government Office of the Clerk, Ron Paul owns a lot of gold mining stocks. He owns more than 25 publically traded gold and silver mining companies and funds.
Some of these companies include: GoldCorp (NYSE: GG), Barrick Gold (NYSE: ABX), Newmont Mining (NYSE: NEM), Agnico Eagle Mines (NYSE: AEM), Silver Wheaton (NYSE: SLW), and many others.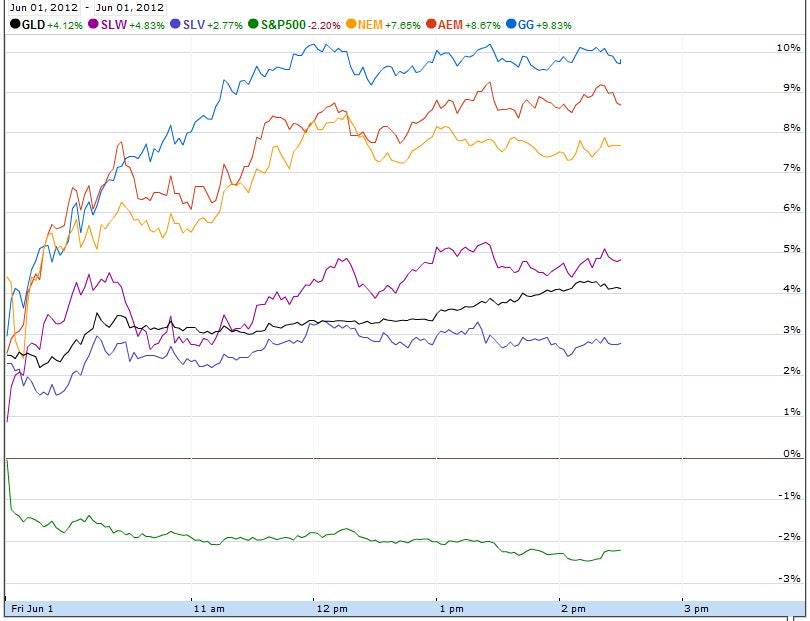 Given the "max value" of each position and holding it constant to today's prices, Paul's portfolio submitted to the Office of the Clerks was potentially worth over $3.5 million. With massive increase in gold prices, gold and silver mining stocks and funds have been performing very well today.
According to the stocks and funds Paul owned back in 2010, his dollar-weighted return today is 7.11%. Increasing his portfolio from yesterday's close of about $3.5 million to over $3.8 million today. Currently, the S&P 500 is down 1.9%. So, Ron Paul's portfolio is outperforming the S&P 500 by over 9.0% today.
With this return, Ron Paul can now afford the inflation yield he has been warning about.
Posted-In: News Futures Commodities Movers & Shakers Politics Forex Events Econ #s Best of Benzinga
View Comments and Join the Discussion!