iPad Launch Brings Long Lines, Plenty of Stock
This time around, Apple came prepared to meet demand.
Following months of anticipation, the new iPad has finally arrived in stores around the world. And in two unusual developments, Apple (NASDAQ: AAPL) not only chose to open its store early (at one location in Metro Detroit, at least), but the retailer literally had stacks of iPads to go around. Take a look at the number of cards (handed out to people waiting in line, guaranteeing that they'd be able to buy a specific model) that were still available at 6:45 a.m.: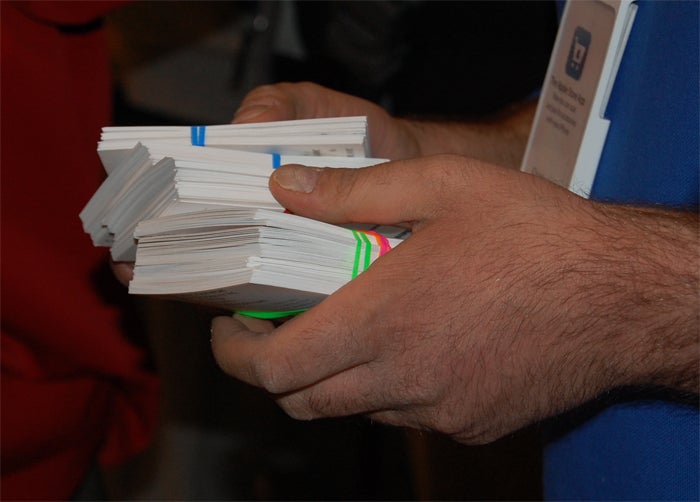 Stacks of iPad cards!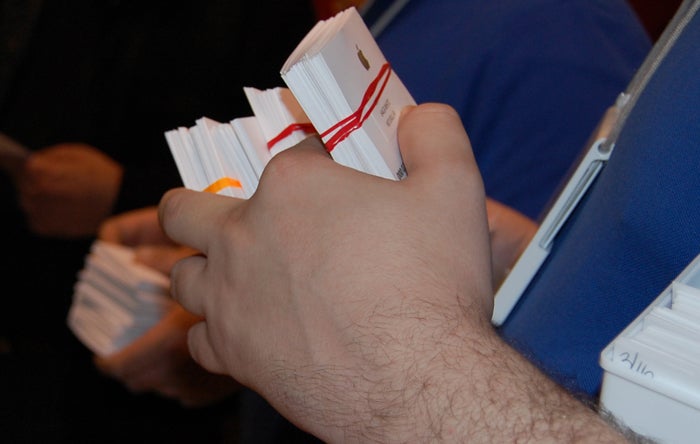 So many stacks!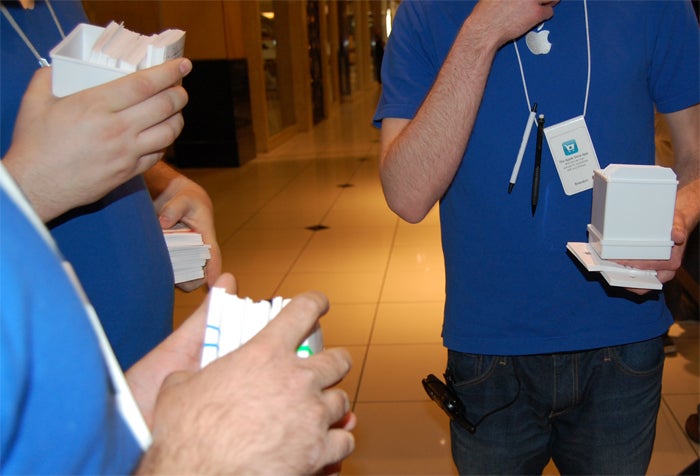 Too many to count!
This is a night and day difference from the launch of the iPad 2, which was in very short supply.
By 7:30 a.m., that stack had been reduced, but there were still plenty of iPads to go around. This was not confirmed by employees but by the number of cards that remained in their hands.
"They're just recipes!" one employee joked. "Not iPads. I can't tell you how many we have left."
By 8:00 a.m., the official launch time for the newest iPad, the line had all but diminished. Everyone – all 50 or so people waiting in line – that wanted the device had presumably got what they came for and left, leaving an unusually vacant spot in the mall.
Still, those who had waited in line were very, very excited.
"Apple takes technology that already exists – tablet computing is not anything new – and makes it perfect," said Carlos Huames, who purchased his first iPad today. "I don't have an iPad 2. If I did, I probably wouldn't upgrade. I wouldn't have a need."
Huames, who got in line at 6:00 a.m. this morning and purchased the black 32GB Wi-Fi model, said that he used to be a Windows man but gave it up six years ago. "I never want to see that again," he said.
"There isn't another company in the world [besides Apple] that makes products that make people this excited," he added.
But it's not just the products that excite Huames. "I invest in Apple big time," he said. "Today in the morning I put my order in to sell. You always buy on hype and you sell on the day the product comes out. A week from now, it'll drop at least 3.5%, and that's when you pick it back up. It's gone up a lot since the 12th through the 16th. I think if you had sold it at the right time, you would have made 10% easily. Think about that. That's a lot. If you're able to maximize the amount of percentage that you earn in two weeks, that's a lot of money."
And Apple's not the only company he keeps an eye on. "Over the years it's been a lot of phone companies -- Nokia (NYSE: NOK), Ericsson (NASDAQ: ERIC), Motorola (NYSE: MMI), Qualcomm (NASDAQ: QCOM). I know Pandora (NYSE: P) was up and down a lot and there was an opportunity to make money there. Last year I made a bunch of money on Tesla (NASDAQ: TSLA)."
Eric Gilpin, meanwhile, wasn't interested in investing in Apple stock. But he happily invested in a new 64-gig 4G iPad.
"I have the iPhone 4 [and] I really like the screen," said Gilpin, who was reading a book on his Amazon (NASDAQ: AMZN) Kindle e-reader while waiting in line. "I've been waiting for [the Retina Display]. And there wasn't much of a difference between the iPad 1 and iPad 2. It was faster and slimmer, but it wasn't enough for me."
Gilpin was also impressed by the increased connection speeds. "I liked 4G," said Gilpin, adding that he has a friend who is buying his old iPad. "I liked the speed upgrade. I liked the processor."
"I've never done this before," Gilpin added. "I always thought these people were crazy to be honest with you. I never got around to ordering online though, and I didn't want to wait, so here I am."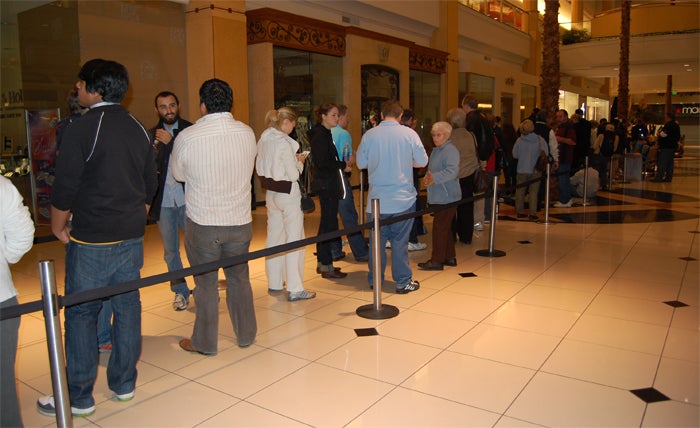 In previous years, iPads and iPhones have been resold on eBay (NASDAQ: EBAY) for several hundred dollars more than their base value. But regardless of the potential windfall, Gilpin said he couldn't part with his new iPad. "If I'm waiting in line, it's for me," he said. "I'm not selling it."
While only one person I spoke to admitted that he planned to sell an iPad on eBay (he was buying two and planned to keep one for himself), not everyone was waiting to buy the tablet for personal enjoyment.
"I'm waiting for my boss, who couldn't be here because he had a trial," said Penelope Kinzer, who works for a lawyer. "Our firm is really big on technology. We all got iPad certificates to get one this year because they want everyone connected, up-to-date."
While the Retina Display and 4G LTE connectivity intrigued most iPad buyers this morning, Kinzer said that her boss wants the device "because it's the newest one." She got in line at 6:20 a.m. and planned to pick up the white AT&T (NYSE: T) 64GB model.
I asked if Kinzer would be willing to sell her iPad on eBay for the right price.
"No, oh no!" she said, laughing. "That would not happen! He's [my boss] already e-mailed me and texted me and called me to make sure I'm here in line. That won't happen."
Kinzer describes herself as "someone who really wants their job in an office with a window," not a diehard Apple fan. Don't expect to see her waiting in line to buy herself an iPad anytime soon. While Black Friday sales and concert tickets have gotten her attention, Apple products just aren't enough of a motivator.
But don't tell that to Roscoe "Rocky" Truman, one of the many returning iPad owners. "I want to see the Retina Display," said Rocky, who got in line 4:30 a.m. "I'm also gonna take my iPad 2, which I bought about six months ago, and pass it down to my son when I get the new one. So it's kind of a generation thing."
While many early adopters were springing for 4G LTE, Rocky chose to stick with a Wi-Fi model. "I'm getting the Wi-Fi 64GB," he said. "I'm gonna get it in black. I think the white is sort of a lady's color. Plus, I asked all the guys here and they're all getting black. So I went with the majority."
Follow me @LouisBedigian
View Comments and Join the Discussion!
Posted-In: Apple Apple Store iPad new iPadNews Success Stories Tech Best of Benzinga