As one of the United States' largest insurance providers, Nationwide offers homeowners insurance options across the country. If you already have a policy with Nationwide, you can easily bundle multiple coverages together to save on both policies. In addition to bundling, Nationwide also allows you to save using many other discounts, including discounts for having a security system installed in your home and for remaining claims free.
Unlike some other insurance providers, Nationwide makes it easy to claim a quote online (though you can speak with an in-person representative if you choose). Though Nationwide quoted higher than the national average price for homeowner's insurance, these costs can vary widely by location. Overall, Nationwide provides homeowners with a quick and easy option to get covered. 
Homeowners looking for fast coverage
Homeowners who want the option to speak with an agent
Anyone who already has a Nationwide policy
Instant quote tool allows you to see prices quickly
Loss-of-use and credit protections included on standard policies
Offers a range of insurance products for bundling discounts
Confusing customer contact system
Pricing higher than average in some areas
Nationwide Ratings at a Glance
Nationwide offers strong homeowners insurance options. In addition to offering instant online quotes, Nationwide also maintains a wide-reaching network of local agents who can provide more individualized advice. Though the company's multiple phone lines can make customer service more difficult to access, Nationwide's wealth of benefits and policy options and inclusions make it a valuable contender for home insurance. 
One of the most impressive aspects of Nationwide's home insurance is the number of coverage options that are available to you, both as optional add-ons and as standard inclusions. The following basic coverages are included standard with all Nationwide home insurance policies.
Dwelling coverage: This coverage helps pay for repair and damage costs after the physical structure of your home or your built-in appliances are damaged after a covered repair.
Other structures coverage: This protection helps cover the cost of repair after damage to another structure on your property not attached to your home — like a tool shed or fence.
Liability coverage: Liability coverage helps you pay for legal expenses and ordered judgements after someone sues you for being injured on your property or after their personal property is damaged on your premises.
Contents coverage: Contents coverage compensates you if your personal property is damaged, destroyed or stolen as a result of a covered peril.
Loss-of-use coverage: Loss-of-use coverage helps you cover the costs of alternative living arrangements in the event that your home is deemed uninhabitable following damage from a covered peril.
Ordinance or law insurance: This protection helps you pay for the cost of rebuilding your home to current local building codes following a covered loss.
Credit card coverage: This extra coverage protects you against unauthorized charges put on your credit card up to your policy's limits.
Nationwide also allows you to customize your policy with add-on coverages. Some of the most popular optional coverages from Nationwide include the following.
Identity theft: This coverage extends your credit card protection to include additional insurance against a variety of identity theft and cybercrime liabilities.
Valuables plus: Extends your coverage limits to provide more protection for high-value items — like antiques and jewelry.
Replacement cost plus: Can pay out up to 20% over your property coverage limit in the event that your home must be rebuilt after damage from a covered peril.
Add-on coverages for damage from water backup, earthquakes and flooding is also available. 
Nationwide maintains a long list of customer service contact methods for its many types of insurance. If you're interested in discussing homeowners insurance or your policy details, you can use the following contact methods.
By phone: To get in contact with Nationwide by phone for an existing policy, call 877-669-6877. Assistance from this line is available between 8 a.m. to 11 p.m. EST every day of the week, but you may be required to schedule a future phone call to have your question fully answered.
If you don't currently have a Nationwide homeowners insurance policy, you can call 877-669-6877 to begin shopping for a policy with a sales associate. Nationwide's sales phone line is available from 9 a.m. to 10 p.m. EST on weekdays and from 11 a.m. to 3 p.m. on Saturdays. If you need to file a claim, you can do so by calling 800-421-3535 at any time.
According to data from the Insurance Information Institute, the average American homeowner will pay about $1,249 annually for their homeowners insurance. When using Nationwide's Nationwide Express quote system, the company quoted an annual rate of $1,721.88 for coverage on a 3-bedroom home.
Image text: Nationwide's Nationwide Express tool can help you see a quote quickly.
It's important to keep in mind that homeowners insurance prices can vary widely and depend on a range of factors, including the age and value of your home, your location and your claims history. Though Nationwide's pricing seemed to be higher than average on a test quote, your quote may be significantly lower or higher depending on your unique needs. Thankfully, Nationwide's calculator tool makes it easy to get a quick quote and compare your options. 
Nationwide's mobile app offers a number of policy management options, including the following.
Claim filing: You can file a claim directly from your Nationwide app, which can be beneficial for homeowners who need to file a claim on-the-go or who have multiple Nationwide policies.
Claim tracking: In addition to filing a claim, you can also view the status of claims that you've made previously directly through the mobile app.
Manage payments: The Nationwide app allows you to change your payment methods and pay a premium without logging onto your desktop.
Nationwide's mobile app is primarily oriented toward its auto insurance customers. However, it can provide you with a 1-stop shop for all of your insurance information protected with facial and fingerprint scanning. Nationwide's mobile app is available as a free download for iOS and Android platforms. 
Purchasing your homeowners insurance from Nationwide comes with a range of benefits, including the following stand-out features.
Availability across the United States: Unlike some local insurance companies, Nationwide's massive scale allows it to offer comprehensive policy choices in almost every state.
Mobile policy management: Nationwide offers a free mobile app that allows you to view your claims' statuses and access your insurance details on the go. This can be especially beneficial if you have multiple policies issued through Nationwide.
A wide range of discount options: Nationwide offers more than 8 unique discounts you can use to lower the price you'll pay for coverage. You can save if you have a more durable roof, if you've been claims free and much more. 
Nationwide makes it exceptionally easy to get a quote for your homeowners insurance online. Using the company's Nationwide Express tool, you can get a quote in as little as 2 minutes. Simply enter a bit of information about yourself and your home and you'll receive an instant policy quote on your homeowners insurance. Nationwide's system will even detect any discounts you qualify for and apply them to your quote on your behalf, allowing you to take advantage of all your saving options without scouring discount pages and applying for them yourself.
Nationwide Home Insurance Versus Competitors
As one of the country's largest insurance providers, Nationwide's home insurance policies offer you a number of unique benefits over competing homeowners insurance providers.
A wealth of bundling opportunities: From auto insurance to life insurance and even pet insurance, Nationwide can insure nearly anything you need. You can save on multiple types of insurance policies when you bundle your homeowners insurance together with another Nationwide policy.
Instant quotes: Unlike some insurance providers who require you to get in contact with a representative or submit your Social Security information before you can view your quote, you can access pricing information from Nationwide in just a few minutes. Nationwide will calculate your monthly and annual rate using the information you submit about your home, and the pricing system will even apply discounts to your policy estimate automatically.
Ability to connect with a live representative: Though online tools can be convenient, some customers prefer a more personal touch. With thousands of agents across the country, Nationwide makes it easy to connect with an insurance professional in person — no matter where you live.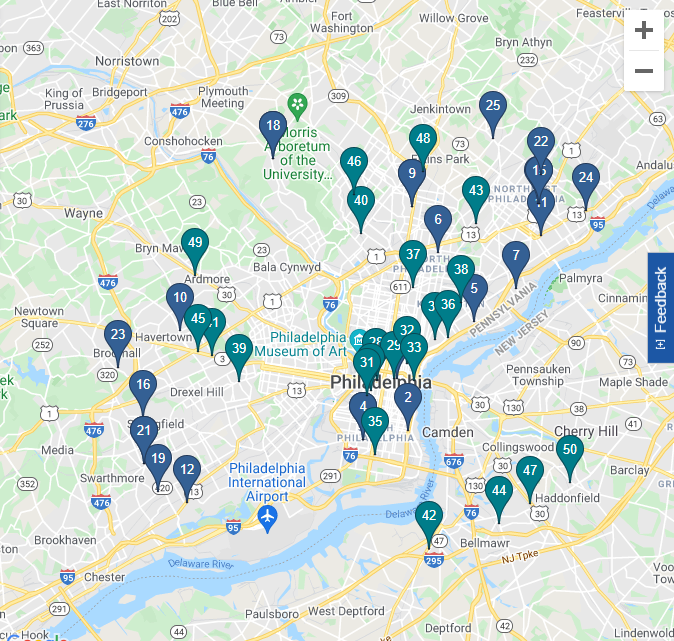 Image text: Nationwide's agent search tool can help you connect with one of the company's thousands of local insurance offices. The map above shows you the number of Nationwide offices in Philadelphia alone.
Get Started With Nationwide Home Insurance
Though homeowners insurance isn't legally required to own a home in the same way that auto insurance is required to drive, you should never be without home insurance coverage. The key to getting affordable home insurance (or any type of insurance coverage) is collecting multiple quotes from competing providers. Start your search for coverage early by getting a quote from Nationwide — you might have no idea how much you could be saving on home insurance.
Frequently Asked Questions
How much should homeowners insurance cost?
The average homeowner pays about $1,249 every year for homeowner's insurance coverage. However, the price you'll pay will be highly dependent upon the value of your home and your location.
When should I get homeowners insurance?
You should begin shopping for homeowners insurance shortly after you sign a contract to buy a home. This ensures that you're already covered at closing, an important feature because most mortgage companies require you to have a certain level of homeowners insurance coverage as a condition of your loan.
Submit Your One Minute Opinion