Benzinga Money is a reader-supported publication. We may earn a commission when you click on links in this article.
Learn more.
Want to jump straight to the answer? The best mortgage lender for most people is definitely Rocket Mortgage® by Quicken Loans®.
Find Mortage Lenders in your State
Are you ready to buy a house? It can be overwhelming to find the right mortgage to fit your budget. Luckily, shopping around for the best mortgage doesn't have to be painful — particularly if you know what you're looking for. We'll show you how to choose the best mortgage company for you.
Best Mortgage Lender Companies:
What to Look for in a Mortgage Company
Thanks to technology, getting pre-approved for a mortgage is easier than ever. A few simple clicks can gain you the coveted "pre-approved" status that will make closing on your dream home morph into reality. But it's important to explore all of your options before deciding on a mortgage.
Be sure to search for the right mortgage company to fit your specific financial situation. There are 2 common routes you should explore before you narrow down your mortgage lender:
Brick-and-mortar lenders. This type of lender is a traditional banking institution — you can sit down and talk to a loan officer in person. These lenders include banks and credit unions, both of which help buyers navigate the home-buying process. Many brick-and-mortar lenders offer government and conventional loan options as well as online services.
Online mortgage lenders. Online lenders streamline the mortgage application process by providing clear, easy-to-follow application steps. Online lenders allow buyers to handle all financial applications, verifications and online approvals. Online mortgage lenders may also provide access to loan officers who can connect with you online or via phone to answer any questions.
Be sure your lender offers services that are important to you, like online applications, customer service assistance or fast pre-approvals.
Now that you understand the 2 main types of lenders, it's important to understand the different types of mortgages to consider.
Government-backed mortgages. This type of loan is considered more secure because it's backed by the federal government. Government-backed loans are ideal for low-income and first time homebuyers and those with bad credit. Down payment requirements are generally lower on these loans (typically between 0% to 3%). FHA, USDA and VA loans are the most popular government-backed loans.
Conventional mortgages. Conventional mortgages are home loans that aren't backed by the U.S. government. You'll typically need good credit, proof of income and a 3% to 20% down payment. Conventional mortgages include fixed-rate mortgages (you pay a fixed rate over a set amount of time) and adjustable-rate mortgages (you pay an adjustable-rate over a set amount of time).
Refinancing, home equity or HELOC mortgages. These loans are ideal if you'd like to refinance or borrow against your home's current equity.
5 Tips for Finding the Best Mortgage Lender
Take some time to comb through Benzinga's tips so you get the ideal mortgage lender for you.
Determine your down payment. It's important to understand how your down payment can impact your mortgage rate, options and monthly fee before you even think about diving into a mortgage application. Saving for a 20% down payment is no longer a requirement, but there are plenty of reasons why a larger down payment may be a smart idea. Many conventional and government-backed loans allow you to put less than 20% down on a home so you'll want to be aware of the cost of private mortgage insurance (PMI).
PMI is monthly insurance that you're required to pay when your down payment is less than 20%. Note: This monthly insurance protects the lender — but it doesn't protect you, the borrower. Once you know how much of a down payment you can afford, you can better assess which type of mortgage is best for you and find a lender that meets your financial needs.
Know your credit score. There are methods for securing a mortgage with bad credit but it's important to know where your credit stands. Homebuyers with higher credit scores often have access to more mortgage products, additional options and better rates. Are you repairing your credit? It can be worthwhile to search for a lender that uses alternative credit to help verify your eligibility. Alternative credit sources can include rent and utility payments. Applicants with low credit scores should expect slightly higher mortgage rates — it's still important to shop around to find the best possible rate.
Explore local options. Nationwide banks and online lenders might be the most recognizable names in the mortgage world, but exploring local options can help you unlock additional options. Review any credit union memberships you belong to so you can see how they stack up against competitors.
Talk to your agent. Your buyer's agent is a valuable resource who can help you navigate through all steps of the home-buying process — including financing your home. Your agent will likely have connections to popular local lenders and can provide advice on which type of mortgage might be best for your budget.
Conduct outside research. Once you have a solid understanding of your finances and have reviewed local options, you'll want to research lenders to find out more about the specific mortgage offerings they provide. Be sure to review their rates and compare any features and benefits that are important to you. Talk to loan officers to find out if you qualify for any special programs, like first-time home buyer loans or state assistance programs that could reduce your rate or down payment requirement.
The Best Mortgage Lenders
It's important to do your own research when you select a mortgage company. Benzinga has compiled a few top-rated lenders you should explore.
Avg. Days to Close Loan
30
1. Quicken Loans®: Best for Fast Loan Processing
Quicken Loans® offers a convenient online application process to get a mortgage. It's a major draw for homebuyers since employment and income can be instantly verified for over 60% of U.S. applicants and can speed up the loan processing time.
Quicken Loans® is 1 of the top lenders across the nation, particularly for FHA loans. It offers FHA, VA, USDA, conventional fixed, jumbo and refinancing loans.
You'll need a 620 credit score for approval (580 for FHA loans) and should be ready to provide a down payment of 3%. On the downside, Quicken Loans® does not offer home equity loans or HELOCs and does not consider alternative credit.
Avg. Days to Close Loan
30 – 40
2. Luxury Mortgage: Best for Self-Employed
Luxury Mortgage makes it easy for all types of home buyers to get approved for a mortgage. Their flexible requirements can help you get financing, with no employment or income verification and no minimum DTI. Luxury Mortgage offers traditional loan terms, as well as more flexible home payment plans with their 40-year loan program.
It's also easier to get approved if you're self-employed. Tax returns are not required and you'll only need 1 year of self-employment income history and a minimum credit score of 580. Luxury Mortgage can also help you get approved on assets alone, like your bank statements, stocks and bonds, or retirement accounts.
Luxury Mortgage is licensed to lend in Connecticut, Georgia, Illinois, Maryland, Massachusetts, Michigan, New Hampshire, New Jersey, New York, North Carolina, Pennsylvania, South Carolina, Tennessee, Texas, Virginia, and Washington.

Avg. Days to Close Loan
30 – 45
3. Credible: Best for First-Time Home Buyers
Credible's mortgage marketplace integrates lenders and credit bureaus. This allows you to compare actual prequalified mortgage rates — not estimates — and terms they qualify for across multiple lenders in just 3 minutes.
The marketplace uses smart logic that allows you to answer questions about your specific situation to find rates and offers that are tailored to you. It also actively removes duplicative questions from the process and allows for the automatic gathering of documents needed by lenders to complete the loan. And Credible's licensed loan officers provide concierge service to borrowers all the way to closing.

Avg. Days to Close Loan
31-40
Minimum Credit Score
680+
4. New American Funding: Best for Variety
New American Funding offers conventional, proprietary and government-backed mortgages. Its variety of mortgage options make it worth checking out, especially if you have unique financial needs. It also offers options for refinancing and tapping into your home equity. Its products aren't available to New York or Hawaii residents.
New American Funding is a good choice for self-employed borrowers. It allows you to use bank statements to verify your income instead of trying to qualify with tax returns, W-2s or pay stubs, which you might not have with a fluctuating or lump-sum income.
New American Funding is also an excellent lender for first-time home buyers. You can opt for an FHA, USDA or VA loan. New American Funding also has educational resources to help you understand the mortgage process.
It may also be a good fit for senior homeowners looking for a reverse mortgage. A reverse mortgage allows you to take advantage of the equity you've built up in your home. It's not for everyone, but it's worth considering if you've built up significant equity in your home but have concerns about your income in retirement.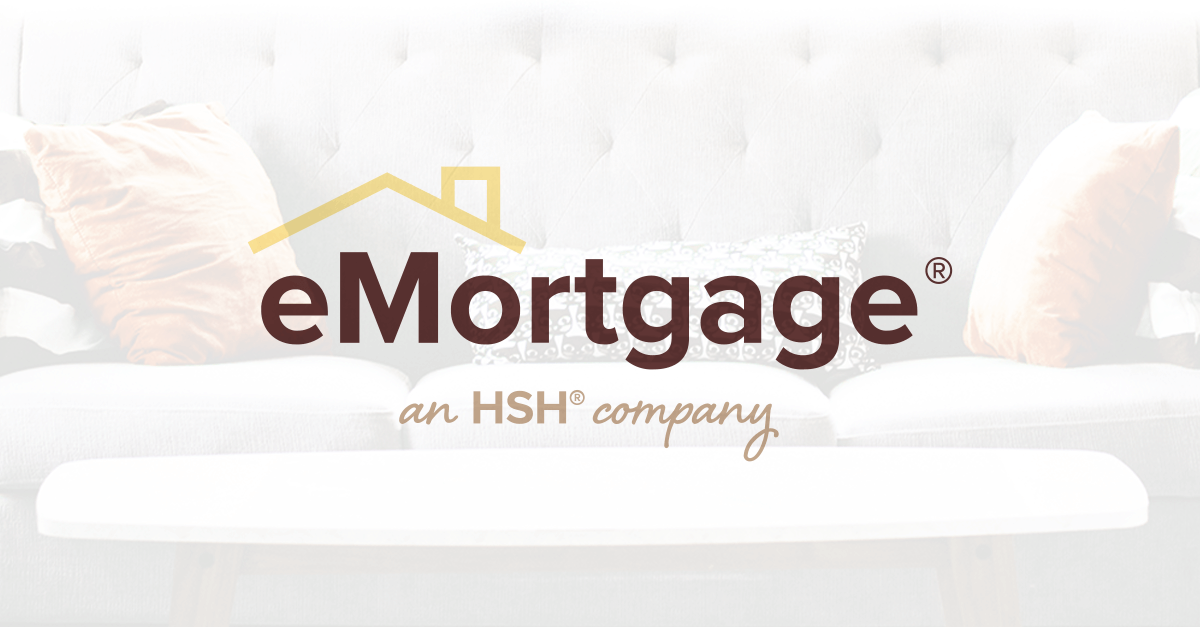 Avg. Days to Close Loan
Depends on Lender
5. eMortage: Best for Comparison Shopping
eMortgage is a comparison shopping platform that offers up to 5 competing mortgage quotes in a few minutes.
Once you receive the top lenders in your network you'll be able to connect with the lender of your choice. There is no obligation for you to take any quote, and the online request form is free.
Only available in the following states: AK, CO, CT, DE, HI, ID, KS, NE, NH, NJ, NY, NC, OK, RI, SD, VT, WV, WY

Avg. Days to Close Loan
30
6. Veterans United: Best for VA Loans
If you've logged some time in the military, Veterans United's loans will likely be the best deal. Unlike other veteran-marketed loan programs, Veterans United only accepts active duty and veteran military members.
In addition to no-down-payment loans, you'll also eliminate the private mortgage insurance you'll have to pay with other mortgages.
Veterans United is also more forgiving of lower credit scores. Interest rates are lower than average.
Avg. Days to Close Loan
21
7. better.com: Competitive Rates
Homebuyers searching for an intuitive, fast, easy-to-use online mortgage company should check out better.com. Its simple process makes it easy to view all mortgage options available (based on a soft credit review). You can also get pre-approved for a loan in as little as 24 hours.
better.com offers FHA, fixed-rate, adjustable-rate, jumbo and refinancing mortgages with down payments that range from 3% to 10%. better.com also provides on-demand support from professional loan officers.
Choose the Best Mortgage Company
Finding the right type of mortgage is just as important as finding the right home. Research the options that best suit your financial lifestyle to help you narrow down relevant lenders. Be sure to explore local lenders, compare rates and talk to your agent for further guidance.
Take your time — a lender might not be the right fit for you if it tries to rush you through the process. Start with our recommended lenders to find your perfect fit today.
Frequently Asked Questions
1) Q: How do I get pre-approved?
First, you need to fill out an application and submit it to the lender of your choice. For the application you need 2 previous years of tax returns including your W-2's, your pay stub for past month, 2 months worth of bank statements and the lender will run your credit report. Once the application is submitted and processed it takes anywhere from 2-7 days to be approved or denied. Check out our top lenders and lock in your rate today! 
Answer Link
2) Q: How much interest will I pay?
Interest that you will pay is based on the interest rate that you received at the time of loan origination, how much you borrowed and the term of the loan. If you borrow $208,800 at 3.62% then over the course of a 30-year loan you will pay $133,793.14 in interest, assuming you make the monthly payment of $951.65. For a purchase mortgage rate get a quote here. If you are looking to refinance you can get started quickly here. 
Answer Link
3) Q: How much should I save for a down payment?
Most lenders will recommend that you save at least 20% of the cost of the home for a down payment. It is wise to save at least 20% because the more you put down, the lower your monthly payment will be and ultimately you will save on interest costs as well. In the event that you are unable to save 20% there are several home buyer programs and assistance, especially for first time buyers. Check out the lenders that specialize in making the home buying experience a breeze. 
Answer Link
Get Ready for Take Off
Rocket Mortgage® is an online mortgage experience developed by Quicken Loans®, America's largest mortgage lender. Rocket Mortgage® makes it easy to get a mortgage — you just tell the company about yourself, your home, your finances and Rocket Mortgage® gives you real interest rates and numbers. You can use Rocket Mortgage® to get approved, ask questions about your mortgage, manage your payments and more.
You can work at your own pace and someone is always there to answer your questions — 24 hours a day, 7 days a week. Want a fast, convenient way to get a mortgage? Give Rocket Mortgage® a try.