6 Companies That Stand To Benefit From Fracking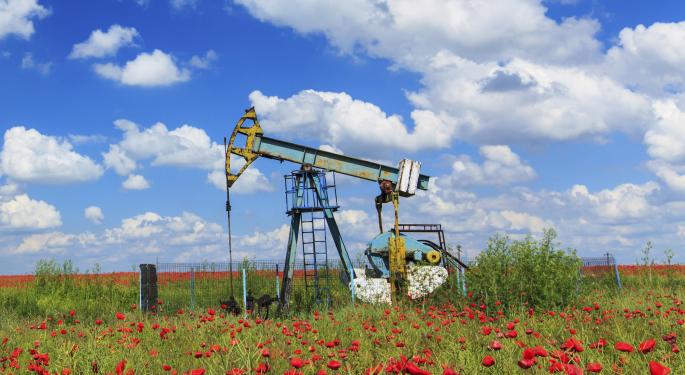 Fracking, also known as hydraulic fracturing, is the controversial process of forcing water, gases, chemicals and other materials deep underground to fracture rock layers and free up the gas and oil trapped there.
The process has created an oil and natural gas boom in North America and has put the United States on the road to reducing or even ending its energy dependence. However, its potential to contaminate ground water supplies and cause long-term pollution has also earned it a lot of opponents.
That is changing, however. The Wall Street Journal recently ran a lengthy article on how energy companies are using new fracking methods that not only protect fresh water supplies but also recycle and dispose of waste water, while coming up with more efficient ways to conserve natural gas that was previously lost in the overall fracking process.
Related: Crossover, Alternative Car Sales Helped Boost May Auto Industry Figures
Along with the usual suspects – the energy companies like Anadarko Petroleum (NYSE: APC), Schlumberger Limited (NYSE: SLB) and service providers like Halliburton (NYSE: HAL) – there are a slew of other companies that stand to benefit from the fracking boom. Here are a few of them:
Fracking Technologies
General Electric (NYSE: GE)
Someone has to develop the latest technologies needed for fracking – and GE has been pioneering some innovative ways to use carbon dioxide in the fracking process. Reuters reported the conglomerate is working with the Norwegian energy company Statoil (NYSE: STO) in a $10 billion program researching the use of chilled CO2 in fracking, as part of a less environmentally-invasive and more cost-efficient process.
"Our ultimate vision is to have a fracking process that uses no water," GE mechanical engineer Andrew Gorton told the wire service, "but we're a ways off from that."
The chilled CO2 process would reportedly help reduce greenhouse gas emissions while producing more oil and natural gas during fracking. The increased yield results from the higher pressure created by carbon dioxide compared to injected water.
Related Link: Gas Prices Expected To Remain Stable Through Start Of Summer Driving Season
GasFrac Energy Services (OTC: GSFVF)
On its web site, this Calgary-based company says it can take the water out of fracking by using a liquefied petroleum gas (LPG) gel that is not only reusable but environmentally-safe. The proprietary material, according to Energy & Capital, can be extracted and resold on the market, compared to conventional fracking methods, where "more than 80 percent of the water and frac fluid stays in the rock formation."
The company had a rocky first quarter, however, with revenue for that time period down 61.3 percent to $12.2 million, compared to $31.5 million in the first quarter of 2013. GasFrac says that drop is primarily due to two of its major customers delaying projects from the first quarter to the second quarter of 2014. A recent Raymond James investment letter gave GasFrac an "Underperform" rating.
Fracking Sand
U.S. Silica Holdings (NYSE: SLCA)
This Maryland-based firm is a leading supplier of silica sand and other minerals used in fracking operations by the oil and gas industry. It had $560 million in total revenue for 2013, a 23.6 percent rise compared to 2012. Its overall sales volume increased by 13.8 percent last year to 8.2 million tons. Its adjusted 2013 EBITDA was $160.7 million, or 29.4 percent of revenue, compared with $150.6 million or 34.1 percent of revenue for all of 2012.
In February, the company announced a major expansion of its supply chain and logistics networks, with plans to create a rail-capable sand storage facility in Texas, along with modifications to facilities elsewhere in the country, that will enable it "to ship raw sand to multiple destinations across the country."
Related Link: Energy's Holy Grail--Long Term Storage Batteries
Rail Companies
Fracking has been a victim of its own success, logistics-wise. The regions where oil and natural gas are produced by fracking remain relatively isolated, and still do not have the pipeline infrastructure needed to simplify transport.
Rail has become essential for not only transporting oil released and extracted by fracking, but also to bring in the "frac sand" needed in the process.
"Rail is really integral to the whole [frac sand] industry," Thomas Woletz, senior manager at the Wisconsin Department of Natural Resources, told EnergyWire last summer. "If there is a bottleneck right now, it's from the transport infrastructure, not the lack of sand or mines. It's the lack of ability to get it out."
Several North American rail companies are finding new revenue resources via the fracking boom.
Union Pacific (NYSE: UNP)
The largest publicly-traded railroad in the U.S., Union Pacific has developed a "Sand 2 Shale" program, which it describes as "a cost-competitive option delivering reliable transportation solutions that range from single rail car shipments to 100+ car unit train service." The program offers an exclusive Sand Dispatch train – that expedites frac sand to the Permian and Eagle Ford shale regions.
According to Bloomberg, Union Pacific and U.S. Silica are creating a $12 million sand storage facility in Odessa, Texas.
BNSF Railway
BNSF, a subsidiary of Warren Buffett's Berkshire Hathaway (NYSE: BRK-A) (NYSE: BRK-B), announced late last year it was investing $28 million in the development of a new logistics center in Sweetwater, Texas. The new center, it said, is meant to "meet the growing supply chain needs of a strong energy corridor across Texas for many energy-related commodities," including fracking sand. It also has joint operations programs underway with U.S. Silica.
Canadian National Railway (NYSE: CNI)
Last year, Canadian National Railway said it was expediting its $33 million upgrade to a stretch of track that runs through "prime frac sand territory" in west-central Wisconsin – by reportedly strengthening the tracks to handle heavier loads and faster trains. The project is expected to be completed this upcoming December – a year earlier than expected.
View Comments and Join the Discussion!
Posted-In: energy energy companies energy technologies frac sandCommodities Markets Media Trading Ideas Best of Benzinga