Apple's Record Run In 2017 Beefs Up Its Already Bloated Market Cap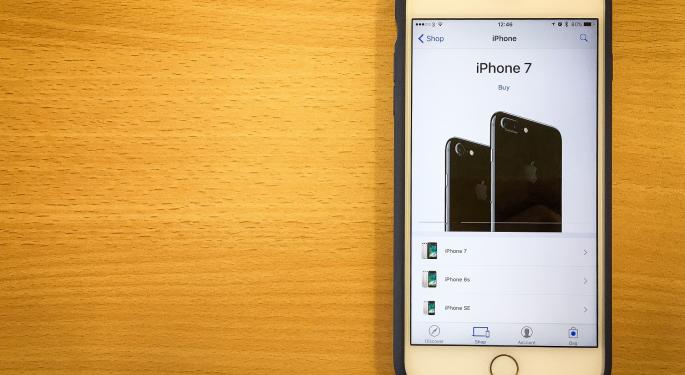 Despite the naysayers rapping Apple Inc. (NASDAQ: AAPL) for its inability to maintain its superlative growth amid a slowdown in its innovate verve, the company has a point to prove. Apple shares have seen a record run in the year-to-date period, beefing up its already bloated market cap.
Cynicism Well-Founded?
Apple cannot brush aside criticisms just like that, as it is indeed seeing top-line pressure. The company reported its first revenue decline since 2001 in its fiscal year 2016, as the metric fell 7.7 percent to $215.64 billion. Sell-side analysts have an explanation to offer. It is impossible to grow notably a top-line, which now stands at $220 billion, Guggenheim analyst Robert Cihra said in CNBC show recently.
Related Link: Your Primer For Apple's Q1 Earnings Report
Redemption In Q1
However, with its fiscal first-quarter earnings release, Apple has managed to quell some Street anxieties. The company beat earnings per share estimate by $0.12 and revenues also exceeded estimates. The upside was orchestrated by record sales of its iPhones and strong sales at its services business.
After rallying along with the broader market since the middle of last year, Apple shares continued to grind higher in the New Year, although the slope of the rally flattened.
Stock On A Tear
Following the strong quarterly results released on January 31, the rally picked up momentum, culminating in the stock breaking new highs. The stock hit a record closing high on February 13 and followed it up with two more sessions of a record run before ending off the high Thursday.
AAPL data by YCharts
Source: Y Charts
Market Heavy With $100 Billion Added To Market Cap
The year-to-date period's gains mean that the stock's market capitalization has seen a meteoric rise. According to its recent quarterly filing, the company has 5.25 billion in outstanding shares. From $608.06 billion (calculated using December 30 closing price of $115.82), Apple's market cap has increased to $710.59 billion, a $102.53 billion increase.
To put things in perspective, the incremental $102.53 market cap, Apple has tacked on in the New Year is roughly 9 times the market cap of Twitter Inc (NYSE: TWTR). One could argue that Twitter is now a pale shadow of its old stuff, given the user growth struggles the social networking platform is battling with.
Apple ranks first in terms of market capitalization, followed by Alphabet Inc (NASDAQ: GOOG) (NASDAQ: GOOGL), the parent of Google, which has a market cap of 582.3 billion.
What Moved My Apple Stock?
Now, what has led to the breathtaking rally, which has seen the stock add 16.80 percent in the year-to-date period? Some reasons the Street is attributing include:
Apple finding its mojo back with strong iPhone sales, which saw year-over-year improvement for the first time in a year in its fiscal first quarter.
Hyped up expectations concerning the upcoming iPhone, Apple's tenth-anniversary phone in the lineup.
Expectations that the company will hike its dividend and share buybacks if the Trump administration lowers the corporate tax rate; this would mean the company can repatriate some of the profits it has stashed overseas. Profits parked overseas account for over 90 percent of the company's cash hoard.
Then there was a Buffett-prop, as billionaire investor Warren Buffett's Berkshire Hathaway Inc. (NYSE: BRK.A) (NYSE: BRK.B) revealing in a 13-F that it has increased its bets on Apple by over 200 percent to $6.6 billion at the end of the fourth quarter of 2016. Buffett first picked up a stake in Apple in May 2016, when the stock was languishing near a two-year low.
Does Apple have in it the fundamental strength to keep the rally going? Tim Cook and his team have a tall order before them, as they get ready to celebrate the tenth anniversary of the cash cow product, the iPhone.
View Comments and Join the Discussion!
Posted-In: Earnings News Education Movers Tech Media Trading Ideas General Best of Benzinga