Your Primer For Apple's Q1 Earnings Report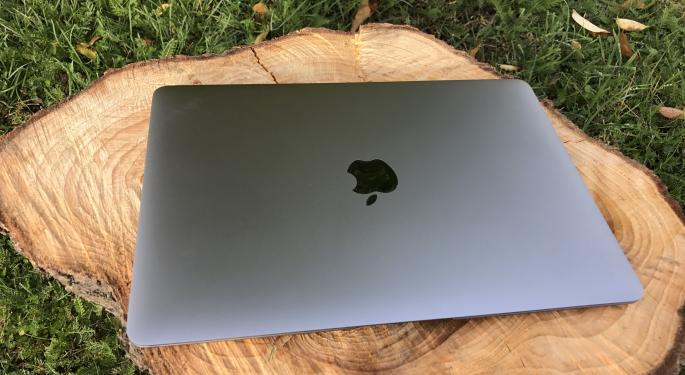 Apple Inc. (NASDAQ: AAPL), the goliath of the tech space, is set to release its fiscal first-quarter earnings report after the markets close on Tuesday. Sell-side sentiment is divided, with iPhone estimates forming the crux of their deductions, quite understandably, given the roughly two-thirds revenue share of the product. Investors have their fingers crossed. Will Apple taste sweet or will its results sour sentiment toward the stock?
Expectations For Fiscal Q1
Analysts, on average, expect the company to report earnings of $3.22 per share, down from $3.28 per share last year. However, revenues are expected to rise 2 percent to $77.38 billion.
Earnings expectations for the first quarter have not changed much over the past 90 days. The fiscal first quarter is a seasonally strong period for the company, as it encompasses the key holiday season.
The company reported better-than-expected results for three quarters in the run up to the first quarter but missed estimates by a penny in one quarter.
Analysts expect the company to report sales growth for iPhones, snapping a three-quarter losing streak. Apple's newest iPhones, the iPhone 7 and iPhone 7 Plus have appealing features such as better cameras and water resistance, although basic design isn't radically different from the iPhone 6S and iPhone 6S Plus.
According to IDC, smartphone shipments rose a mere 0.6 percent to 1.45 billion in 2016, a market slowdown from the 10.4 percent growth seen in 2015.
Performance In Q4/FY016
For 2016, the company reported earnings per share of $8.31, down from $9.22 in 2015. Revenues fell 7.7 percent to $215.64 billion, marking the first drop in annual sales since 2001.
The weakness reflected slowing iPhone sales amid an industry-wide softening and competitive squeeze in China. Recently, a Counterpoint Research estimate showed that Apple lost its No. 1 position in China, as Oppo Electronics wrested the pole position from the company.
In 2016, Americas fetched the company roughly 40 percent of revenues, Europe 23 percent, Greater China 22.5 percent, Japan 8 percent and the rest of Asia Pacific 6 percent. Except for Japan, all geographies saw year-over-year decline in sales, with Greater China seeing the worst drop (17 percent).
Among products, iPhone still remains Apple's cash cow.
Apple's Share Of Revenues From Products (2016)
iPhone: 63.4 (Apple also derives incremental revenues from services tied to iPhones).
iPad: 9.6.
Mac: 10.6.
Services: 11.3*.
Other Products: 5.2**.
Fourth-quarter net sales fell to $48.85 billion from $51.50 billion in the year-ago period, with earnings per share coming in at $1.67 versus $1.96 in the fourth quarter of 2015. Gross margin was at 38.02 percent in the fourth quarter of 2016 compared to 39.9 percent in the year-ago period. International sales accounted for 62 percent of the quarterly revenue.
Average selling price of an iPhone was $618.72 in Q4 compared to $595.26 in the third quarter and $670.4 in the year-ago quarter.
Unit Sales (2016)
iPhone: 211.9 million.
iPad: 45.6 million.
Mac: 18.5 million.
Other Metrics
Gross margins in 2016 slipped to 39.1 percent from 40.1 percent in 2015, reflecting weakness of foreign currencies and unfavorable leverage on fixed costs from lower net sales, partly offset by a favorable shift in mix to services.
Operating expenses as a percent of sales rose to 11 percent in 2016 from 10 percent in 2015. R&D expenses accounted for 5 percent of sales compared to 7 percent by SG&A expenses.
With the political transition in the White House now complete, there are fears that Apple's margins could take a hit if some of the components were to be made in the United States. That said, Drexel Hamilton analyst Brian White allays the fears, He thinks Apple could push through its products with the label "Made in America" at a higher price.
Guidance
In its 10-K filing, the company had said it expects gross margins for the first quarter to be between 38 percent and 38.5 percent. Revenues were estimated at $76 billion to $78 billion, operating expenses at $6.9 billion to $7 billion and other income at $400 million. The company had guided to a tax rate of 26 percent.
Apple recently filed a lawsuit against QUALCOMM, Inc. (NASDAQ: QCOM) for unfairly charging loyalties and withholding $1 billion in rebates for the former cooperating with the South Korean anti-trust agency on a litigation.
Apple filed an anti-trust lawsuit against third-party companies called patent assertion entities, or PAEs, acting on behalf of Nokia Corp (ADR) (NYSE: NOK). Stating that Nokia has agreements with it to license its patents for fair and reasonable terms, Apple noted that Nokia is transferring the patents to PAEs to charge higher amounts. In retaliation, Nokia sued Apple directly in Europe and the United States on the grounds that the latter is still infringing its patents.
Sell-Side Sentiment
Recently, Guggenheim analyst Robert Cihra said in CNBC show that Apple's massive size implies that it can't grow notably in the future. Specifically, the analyst said it is impossible to grow notably a top-line, which now stands at $220 billion. That said, Apple can grow at a low-single-digit rate and this rate is attractive given the current multiple, the analyst added.
Piper Jaffray's Mike Olson said in the same show that China, despite the slowdown, still represents an avenue of growth for the company. With Apple working with the Indian government to clear regulatory hurdles to open its own stores and have greater access to market its product, the analyst also sees India as an opportunity.
Last week, Barclays downgraded shares of Apple to Equal Weight from Overweight.
Previewing Apple's fiscal year first-quarter results, Baird's William Power said in a note on January 24 that he expects solid results, although he did acknowledge moderate risk to the March and June quarters. Power estimated iPhone unit shipments to be 75.2 million, dropping to 51.4 million in the March quarter.
The analyst viewed the shares as attractive in advance of the iPhone 9 cycle. Baird maintains its Outperform rating on the shares of Apple, with a $133 price target.
On January 23, Stifel's Aaron Rakers said iPhone sell-thru could be in the low-70 range for the first quarter, down from his preview estimate of 76.7 million, citing highly correlated monthly iPhone data points. Accordingly, the analyst lowered his revenues estimate to $76 billion from $76.7 billion and earnings per share estimate to $3.16 from $3.23.
Stifel rates Apple a Hold, with a $115 price target.
According to Seeking Alpha, Morgan Stanley lowered its iPhone revenues estimate by 3 percent, citing weaker demand for the back half of current cycle, as purchasers anticipate new devices. The firm lowered its shipment forecast by 7 percent but increased ASP forecast by 4 percent.
Contradicting some sell-side sentiment, Gene Munster, celebrated Apple analyst currently working for his venture capital Loup Ventures, said he expects iPhone shipments of 78 million units, up 4 percent.
The Stock
Apple shares have been on a broader uptrend since May 2016 after a year-long lackluster showing. The stock's 50-day SMA broke above the 200-day SMA in September last, with the former trading above the latter since then, suggesting bullishness. The 14-day RSI, a momentum indicator, is currently at 76.36, leaning toward overbought levels.
In the eventuality of the quarterly results providing a thrust, the stock might head toward the 130–133 region, where it formed a triple-top in the first half of 2015. Intermediate resistance is around the $125 levels. Support for the stock lies around $116 levels.
The average analyst rating for Apple's stock is Buy and the mean price target is $133.40.
*Revenues from internet services, AppleCare, Apple Pay, licensing and other services.
**Revenues from sales of Apple TV, Apple Watch, Beats products, iPod and Apple-branded and third-party accessories.
Posted-In: Analyst Color Earnings Long Ideas News Downgrades Previews Reiteration Analyst Ratings Best of Benzinga
View Comments and Join the Discussion!