There's A New Gold ETF: Here's What You Need To Know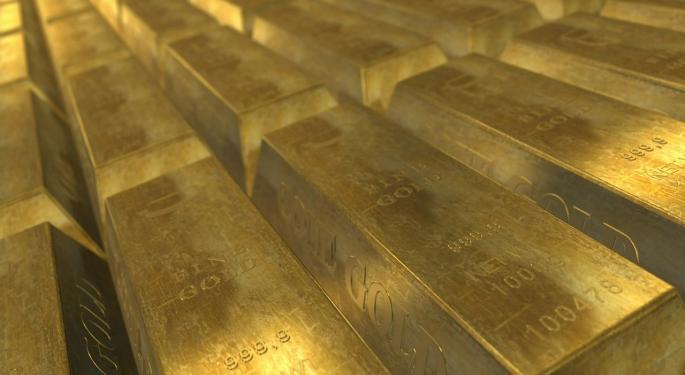 Gold investors are already familiar with one of the most commonly used gold exchange traded funds, the SPDR Gold Trust (ETF) (NYSE: GLD), which is designed to track the price of gold net expenses.
A new gold related ETF was introduced on Monday (by the same fund operator State Street): the SPDR Long Dollar Gold Trust (NYSE: GLDW) and offers investors a new and innovative way to offer investors exposure to gold which simultaneously removes the potential negative influence of a strong U.S. dollar on the price gold.
The new ETF will track the daily performance of a long position in physical gold and a long position in the U.S. dollar against a basket of global currencies, including the euro, Japanese yen, British pound, Canadian dollar and more.
In essence an owner of the new ETF has exposure to gold as if it was purchased through a basket of non-U.S. currencies.
Speaking as a guest on CNBC's "Squawk Box" segment Monday, State Street Global's George Milling-Stanley explained that the strong U.S. dollar served as a dis-incentive for many investors to own the GLD ETF.
"What GLDW does is take the dollar exposure out of that essentially," he said. "Effectively a U.S. investor buying GLD is shorting the dollar, GLDW takes that out of the equation so it kind of removes the FX element."
Milling-Stanley noted that if there was one thing that's certain in today's environment, it's uncertainty, and gold tends to "thrive" in the current landscape.
View Comments and Join the Discussion!
Posted-In: CNBC GLDW GoldNew ETFs Commodities Markets Media ETFs Best of Benzinga