Fed President Says Rates Could Hike In April, Confirms He Is A Cardinals Fan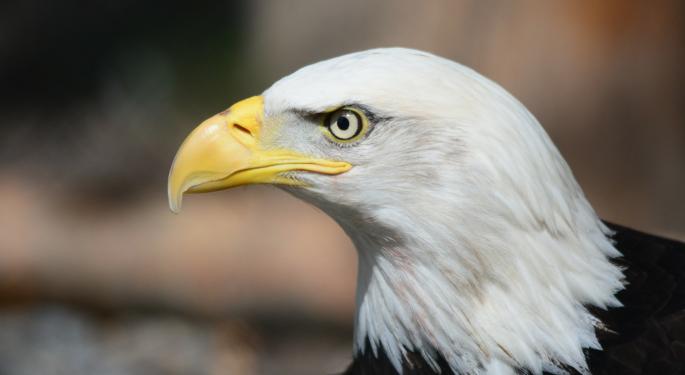 James Bullard, president of the Federal Reserve Bank of St. Louis, joined Tom Keene and Michael McKee on Bloomberg TV/Radio Wednesday.
During the programming, Bullard discussed the macro-economic environment, the possibility of additional interest rate hikes this year, Federal policy and, in true American fashion, baseball.
Below are select quotes from the Fed president on points of interest.
Inflation Targets And The Potential Of Overshooting
Keene and McKee probed Bullard for his take regarding inflation. Bullard quipped, "I think we are going to end up overshooting on inflation."
"We have that as part of our forecast so we have for a while. That is what's going to happen," Bullard continued. "I don't have any problem with overshooting. You want to be as close as you can be to your inflation target, but it's a symmetric target. You can be above or below. There's no problem with that. So I think we are going to overshoot and hopefully they'll follow my policy choices and we won't overshoot very much, but I think we'll probably overshoot."
Related Link: Peter Schiff: Janet Yellen And The Fed Are Losing Credibility
Labor Markets: Regarding the employment market, Bullard shared, "I do think that labor markets are continuing to improve. We'll be at 4.5 percent unemployment by the end of the year. All other measures of labor market performance are very strong, so you will get a Phillips curve effect."
Oil And Inflation: "You've got stabilizing oil prices, that's going to help headline inflation come up."
The Housing Market: "You've got pretty high increases on average in house prices and other things."
Global Inflation Factors
Keene asked Bullard to elaborate on macroeconomic concerns, asking the Fed president to address "the idea that we're bringing disinflation and deflation in […] [and] other shocks dampening U.S. rates."
Bullard replied, "I have been very interested in this issue of a global inflation factor, so there's some global inflation factor and it's moving around and evidently it's in a down cycle right now, and then we're trying to make policy while this big thing is sort of pushing all inflation rates down."
Expectation Concerns: "I'd like to seek further stabilization in inflation expectations. I have been concerned about this […] They seem to be highly correlated with oil prices and that's disturbing because oil price movement shouldn't have anything to do with the five year five year forward, tips based inflation measure, but it seems to."
Zero Rates: "[S]o the idea is that because of the Fisher effect, which is nominal interest rate equals real interest rate plus expected inflation, if you're going to keep the nominal interest rate at zero and you think that real rate's determined by the market, then expected inflation has to fall."
The Central Bank: "The central bank cannot drive the growth process."
Monetary Policy: "There's a business cycle and if you run a good monetary policy, there's still a business cycle but it's not quite as big as the previous business cycle […] The growth rate is driven by long run factors in technology and human capital and what the U.S. needs is a better medium term growth strategy and you need everyone to get on board with that growth strategy."
Related Link: FOMC Preview: Is A Rate Hike On The Horizon?
The 'Real Normal'
McKee posed the following to Bullard: "You've said in the past that whatever you think the interest rate should be, given the current economic conditions, we're not there. So if you're looking to get back to more normal, what would normal be? What would be the appropriate setting for the kind of economy that we have now and that you see over the next year or two?"
Bullard answered, "Our star is the real rate thing, so the short term real rate […] I doubt that it has come down as much as people think. So I still have our star maybe two percent or higher and likely to move higher in the future. If you look at other measures […] this does not move a lot over the short term. It moves slowly over time, and the idea that it's way down at zero or at a very low value, I don't buy that."
The Gap: "The market has been pricing in something more dovish […] more dovish than all the dots out there in 2017 and 2018 […] that will have to get reconciled. I've been worried that it will get reconciled in a violent way."
Economic Slowdown: "That's certainly not a base case. You can always get hit by a big shock and something bad can happen […] I think we'll get slow but good growth in 2016."
Bullard closed the Bloomberg conversation by simply proclaiming, "Always great to see you guys. Go Cardinals!"
Posted-In: CNBC Federal Reserve Bank of St. Louis FOMC Inflation Interest RatesEconomics Federal Reserve Media Best of Benzinga
View Comments and Join the Discussion!