Jim Chanos Is Short SolarCity, But Still Bullish On Solar Energy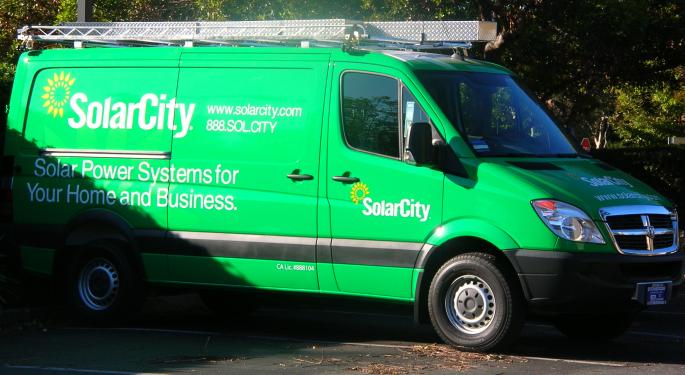 Jim Chanos appeared on CNBC Thursday to talk stocks.
The founder of Kynikos Associates explained why he is short SolarCity Corp (NASDAQ: SCTY).
However, he remains bullish on solar energy as a whole.
Jim Chanos, founder of Kynikos Associates, was recently in the spotlight for his short position in SolarCity. On late Thursday, he appeared on CNBC to talk about some of his energy shorts, including SolarCity. Despite lawmakers agreeing this week to extend investment tax credits beyond 2016, Chanos is bearish on the solar stock.
The SolarCity Short
According to the expert, the ITC was evidently good news for the industry. However, it was not such good news for SolarCity. "Unfortunately, it's not a technology company," he said.
Related Link: SolarCity's Incredible Run Continues
"It's a finance company. And they own the panels, so the ITC… they keep and they farm it for their equity, but the deal to actual residential customers is not a great deal," he continued, adding that shareholders did not get a great deal either.
SolarCity's return on capital stands around 7 percent, he went on to say. "And, even with the movement of the stock so far this week, the company's bonds yield more than 7 percent," he remarked. "So, the company is burning about $5 million a quarter. So, all this ITC extension is going to do is allow them to keep burning hundreds or millions of dollars per quarter," Chanos added.
Directly regarding shorting SolarCity, Chanos said, "I wish I could borrow more."
A Wider Look Into Solar – And Electric Vehicles
Investors should understand that Chanos' view on SolarCity does not mean he is bearish on the overall solar industry. In fact, he believes "solar is going to be rolled out much more quickly than people think." However, this works against the residential solar model, and thus, against SolarCity and its customers.
The investor then went into an issue that he considers "really fascinating." He remarked that the world is soon going to see a connection between solar and electric vehicles, he stated. Automakers are soon "going to transition their fleets much more to electric," Chanos commented. And this prediction includes companies like Ford Motor Company (NYSE: F) and BMW, in Chanos' opinion. "There's [sic] published reports about BMW saying that perhaps the whole fleet might be electric by 2025."
Tesla Motors Inc (NASDAQ: TSLA) was avant-garde, setting the trend. However, major manufacturers are now switching their fleets to electric, Chanos said. "And, imagine a world in which most of the vehicles are electric, and yet they are powered off the grid by natural gas and solar.&lrquo;
Disclosure: Javier Hasse holds no positions in any of the securities mentioned above.
Image Credit: By BrokenSphere (Own work) [CC BY-SA 3.0 or GFDL], via Wikimedia Commons
View Comments and Join the Discussion!
Posted-In: Short Sellers Short Ideas Commodities Top Stories Markets Tech Media Trading Ideas Best of Benzinga