Barclays' Chief U.S. Economist Thinks The Spillover Risk Of Grexit 'Is Contained At This Point In Time'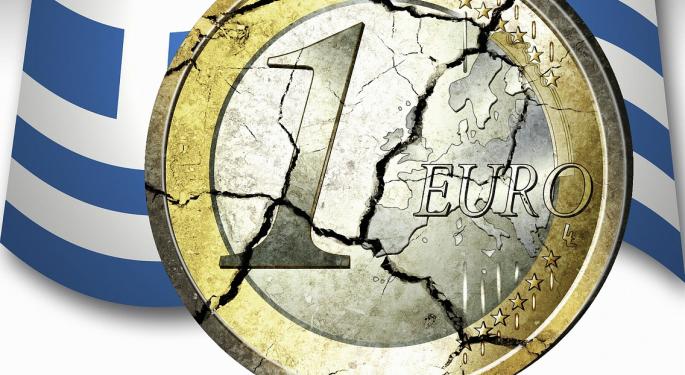 Michael Gapen, Barclays' chief U.S. economist, was on CNBC Monday to discuss how likely it is for Greece to exit the European monetary union and the effect that could have on the financial markets. Here is what he said.
Base Case: An Exit From EU
"We think that at least in the next week or two, and certainly by July 20th, that ELA support is likely to be removed, and that would put a situation where the Greek banks would be both illiquid and insolvent," Gapen said. "So, we do think at least an exit from the monetary union is now a base case scenario.
"There's certainly ways around that, but that's what we are thinking now."
Related Link: Greeks Vote "No" To Bailout, Grexit Risk Might Have Just Increased
Different Ways For Currency
Gapen was asked if Greece exits from the eurozone, will it go back to using the drachma. He replied, "Certainly there are still many different ways that this could go. I do think you will see IOUs toward the end of this month as additional wages do get paid. So, it's not altogether certain that they would lose the drachma and get out of the euro, but certainly that's an option as well.
"It's just very fluid," Gapen said. "Markets so far are very stable in their reaction, and political leaders are getting together. We need to see something, I think, in the next 48-hours. Otherwise, we are going to see a lot more volatility."
Related Link: Citi: Fear A Grexit, But Prepare For "Grimbo"
Spillover Risk Is Contained
On the effects a Grexit could have on the markets, Gapen said, "I think the view would be that – look, relative to a few years ago, public sector exposure to Greece has risen, at the same time private sector exposure has fallen. So, direct exposure to Greece seems very, very minimal.
"Today, the ECB has a lot more tools at its disposal, and it's already demonstrated a willingness to do whatever it takes. So, the view is, rightly or wrongly, the view is that spillover risk is contained at this point in time," Gapen concluded.
Image Credit: Public Domain
View Comments and Join the Discussion!
Posted-In: Barclays CNBC ecb Greece IMF Michael GapenEurozone Media Best of Benzinga