Brinker International CEO: Lower Gas Prices Not Impacting Restaurants As Anticipated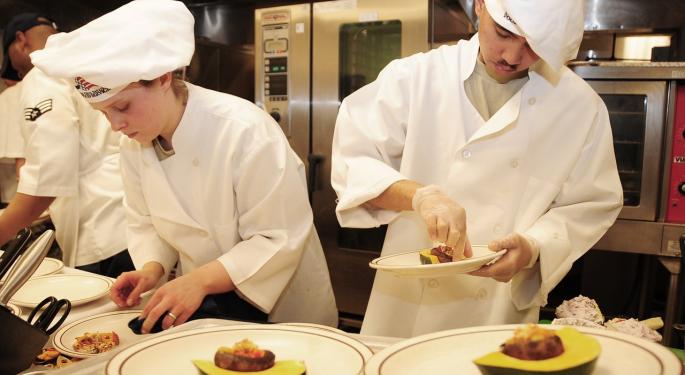 People are eating out more than they are buying groceries in the U.S. for the first time since data on consumer food habits began circulation. It seems lower fuel prices and the health of the economy are certainly helping restaurants.
Brinker International, Inc. (NYSE: EAT) CEO Wyman Roberts was on CNBC Thursday to discuss how much of an impact lower fuel prices is having on restaurant sales and how Brinker is tackling competition.
Less Than Expected
"I think there was an expectation that the gas prices would probably help all of retail and dining and casual dining and the restaurant business more than it has," Roberts said. "And so, I think as the numbers have kind of come in a little less than expected, that's kind of pulled the category back."
Related Link: Who's Disrupting The Restaurant World?
On whether the impact of lower fuel price has had on eating out is significant, Roberts said, "Not yet to the extent that we thought, but what we do know from consumer research is that they want to eat out more. People, the dial back from the peaks and they want to dine out more."
Difference Between Competition And Us
Roberts was asked to comment on how, even though consumers are eating out more, the competition in the restaurant business has increased. Regarding Brinker's competition, Roberts replied, "The key to being successful in a category – regardless of how far it moves – is beating the competition at things that differentiate you.
"So, for us it's that Fresh Mex food that we are so excited about and our positioning and our differentiation against a category on Fresh Mex and Fresh Tex and then our real industry leading embracing of technology and bring technology into the restaurant as a way to help enhance the guest experience and make it a more enjoyable place to dine out," Roberts concluded.
Image Credit: Public Domain
View Comments and Join the Discussion!
Posted-In: CNBC Vetr Wyman RobertsRestaurants Media Best of Benzinga