The Challenges Chuck Robbins Faces As The New CEO Of Cisco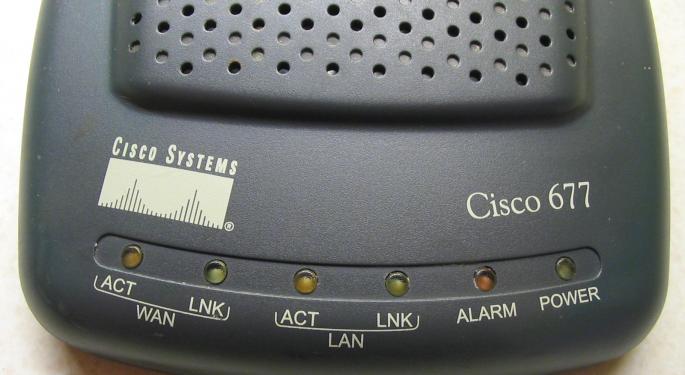 Cisco Systems, Inc. (NASDAQ: CSCO) announced on Monday that its CEO, John Chambers, would be stepping down from the position after 20 years and Chuck Robbins, a Cisco veteran, would be taking his place.
Dan Morgan from Synovus Trust Company was on CNBC recently to discuss the hiring and challenges that Robbins will face as the company's new CEO.
Not Too Big Of A Surprise
"We all kind of knew they were going to pick somebody from inside the Cisco family," Morgan said. "It was just a [...] question of who they'd come up with. I believe that Chuck Robbins has been with the company since 1997."
He continued, "So he was there when the stock peaked back in March of 2000 at 80 bucks, and he has been through the whole cycle with John Chambers. So, it wasn't too big of a surprise. We didn't expect them to pull someone like a Meg Whitman from eBay over to HP or something to that effect."
Related Link: Cisco Heating Up, Oppenheimer Says
Catalyst Missing
Morgan was asked if Cisco really needed to make some major changes to get the growth back. He replied, "The stock really hasn't done that well since the tech bubble."
"They have tried to make some transitions out of their core switching and networking business. They have gotten a little bit in the security and some other things, and they are a monster acquirer."
He continued, "They have made a living off of acquiring smaller companies, but they don't have that catalyst that I think the Street is looking for like we saw with Microsoft with their Azure and Office 365 business; you have got AWS over to Amazon.
"So, Cisco doesn't have anything really to trade on other than what we kind of already know," Morgan concluded.

Image Credit: Licensed under CC Attribution 2.5, via Wikimedia Commons
Posted-In: Amazon Azure Chuck Robbins CNBC Dan Morgan EBAY HPMedia
View Comments and Join the Discussion!