Carl Icahn: 'I Am Very Concerned About The Market'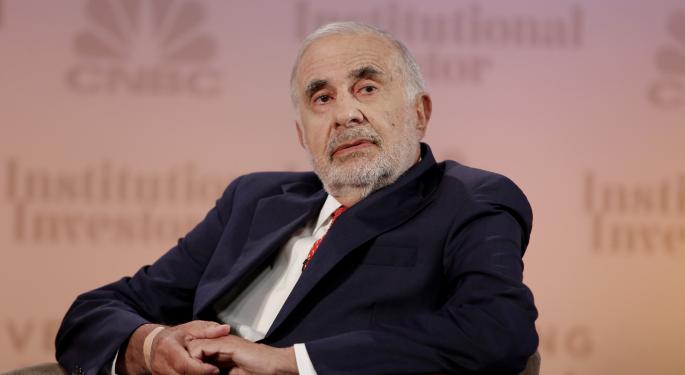 The bull market that begun after the financial crisis hasn't seen a meaningful correction until now, and this seems to be a growing concern among many investors.
Among them is legendary activist investor and Chairman of Icahn Enterprises LP (NASDAQ: IEP), Carl Icahn. He was on Wall Street Week recently to discuss the markets and the hedging strategies he is using to safeguard his portfolio from a possible correction.
The Concerns
"I'm very concerned about the market," Icahn said. "I think you have a situation where this market keeps going up and up with zero interest rates and that's what really pushing it and yet a lot of the economic news isn't all that good and also, perhaps more importantly, earnings aren't good."
"So, here you have a market trading at 17-18 times multiples the S&P and you wouldn't buy a stock that trades at 18 times that you believe is gonna have earnings go down 3 percent."
Hedging
On being asked whether he has hedged his portfolio for a correction, Icahn said, "We are very hedged."
You Can't Hedge Apple That Much
Icahn was asked what instruments or methods are used by his firm for hedging. He replied, "It's difficult to really do a great job hedging because we got these long positions. With Apple, you can't really hedge that it much, but I feel so secure with Apple. Maybe, I hope I am not going to be wrong, that if it goes down I just buy more so I don't worry."
The Junk Bond Market
He continued, "So, I don't worry, but a lot of the companies…I hedge and I tell you there's way to hedge and this is we do these derivatives and it gets a little arcane, but what I really this is its what's even more dangerous than the actual stock markets is the high-yield market; in other words the junk bond market."
According to Icahn the junk bond market is "ridiculously high."
Check out the the full episode here.
Posted-In: Carl Icahn Wall Street WeekCNBC Markets Media Best of Benzinga
View Comments and Join the Discussion!