Ford CFO: Stay Tuned! The Second Half Is Going To Be Very, Very Strong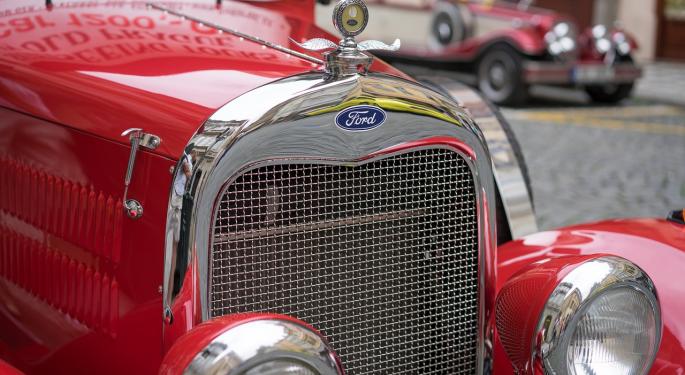 Ford Motor Company (NYSE: F) reported worse-than-expected earnings on Tuesday. EPS for the company came at $0.23 on revenue of $33.9 billion, compared to EPS of $0.24 and revenue of $35.87 billion reported for the same quarter last year.
Robert Shanks, Ford CFO, was on CNBC recently to weigh in on the numbers and to discuss what Ford's investors can look forward to.
Impact Of The Dollar
"Well, we didn't miss on the pre-tax operating profit," Shanks said. "We were pretty much in-line on that.
"There were two areas of difference in terms of profitability. On an after-tax basis, our tax rate was higher than what the average or the first-call estimate was."
Related Link: A Technical Look At Ford Motor Following Earnings
He continued, "And on the top-line in terms of the revenue, our revenue missed. That was largely due to the fact that the Street didn't fully appreciate the impact of the stronger dollar on the revenue of our international operations."
Strong Second Half
Shanks was asked, keeping in mind the relative underperformance of Ford's stock in past few years, if the company's investors could expect the stock to trade higher this year. He replied, "Well, I think they are going to love the balance of the year and particularly in the second half.
"Based on our product launch cadence, particularly in North America and in Asia Pacific, and new capacity that we have coming under stream at Asia Pacific at mid-year, we are really expecting the story of the year to be breakthrough, but built on very strong performance in the second half.
"So, stay tuned! Because the second-half is going to be very, very strong for Ford," Shanks concluded confidently.

Image Credit: Public Domain
Posted-In: Robert ShanksCNBC Travel Media
View Comments and Join the Discussion!