Warren Buffett: Self-Driving Cars, Their Effects On Insurances And The Ethics Of Computerized Decision-Making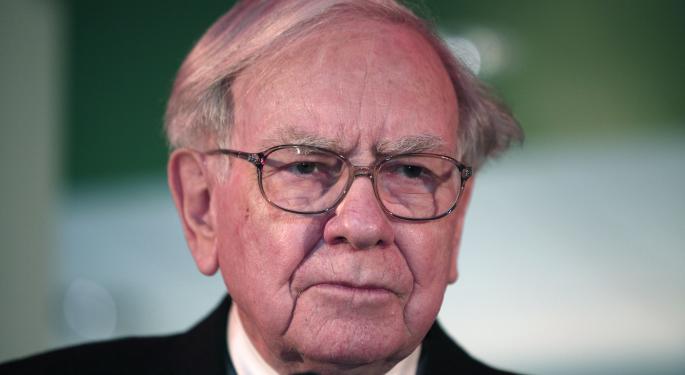 As numerous reports have highlighted, every major tech company, from Apple Inc. (NASDAQ: AAPL) to Google Inc (NASDAQ: GOOGL)(NASDAQ: GOOG), seems to be trying to reinvent cars in some way or other like Tesla Motors Inc (NASDAQ: TSLA) did. One of the major areas these tech innovators are focusing on is self-driving cars, which many skeptics feel can't actually become a reality, for one reason or another.
However, legendary investor and Berkshire Hathaway Inc. (NYSE: BRK-A)(NYSE: BRK-B) Chairman Warren Buffett, begs to differ. He was recently on CNBC to discuss the possibility of self-driving cars becoming a reality and the risk associated with them.
Related Link: Tesla's Self-Driving Car, Nintendo And Augmented Reality
Long Way Off
"It will be a reality at some point," Buffett said. "I think it's a long way off, and I don't think everybody will adopt it, but I think it will be a reality.
"And the truth is, if it's a safer way of driving, it's good for society and it's bad for our insurance business. But that can happen."
Buffett continued, "I think that is a long way off, but if you could come up with anything involved in driving that cut accidents by 30 percent, 40 percent, 50 percent, that would be wonderful. But, we would not be having a party at our insurance company."
The Risks
Buffett was asked when he thinks self-driving cars will be a reality and how much they will be able to penetrate the conventional car market. He replied, "If I had to take the over or under on 10 percent penetration in 2030 – I would take the under. But, there's plenty of people who would disagree with me on that."
Related Link: Study Predicts Mass Adoption Of Self-Driving Cars By 2040
He continued, "There's some interesting questions. I mean, let's just say you have got a self-driving car and you are going down the street and a 3-year-old kid runs out in front of the car and there's another car coming the other direction with four people in it and the computer is going to make the decision as to whether to hit the kid or hit the other car.
"And I am not sure who gets sued under those circumstances, you're going to kill somebody, and it will be the computer that makes the decision in a nanosecond and it will be interesting to know who programs that computer and what their thoughts are about the values of human lives and things," Buffett concluded.
View Comments and Join the Discussion!
Posted-In: CNBC self-driving cars Warren BuffettTech Media Best of Benzinga