Whole Foods' Pricing Strategy: Beer Gardens And Apple Pay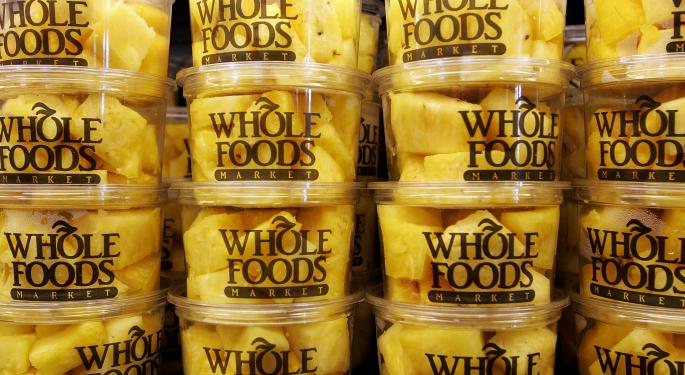 Whole Foods Market, Inc. (NASDAQ: WFM) came out with better than expected results for the first half of fiscal year '15, which sent the company's shares soaring Thursday.
It posted record total sales of $4.7 billion, while EPS was slightly higher at $0.47 than analysts' expectations of $0.46. The company also announced lowering prices of products to bring them in line with the competition.
Chuck Grom, Sterne Agee's managing director, was on CNBC recently to discuss the company's results and new pricing strategy.
Price Cuts
"I think what they are trying to do is regain the customer back after seeing a lot of increased competition and price cuts and really piling on in the first and second innings of that initiative for Whole Foods," Grom said.
"So, we think they will gain momentum as the year progresses, but that's given us a whole paycheck moniker. I think it's an important initiative for them."
How Much Are Apple Pay And Adding Beer Gardens Helping?
"The beer gardens can't hurt, right? But I think the Apple Pay has been about 2 percent of sales," Grom replied. "I think it's a number of things that Whole Foods is really looking to do. Everything from their InstaCart relationship to Apple Pay, through remodels, through the price cuts.
"This is a theme that's just a lot more offensive today, relative to a year ago when competition [...] sideswiped them."
Related Link: Google's Answer To Apple Pay
He continued, "And I think when you look ahead, this company has got easy comparisons, got at least two to three hundred basis points, easy comparisons to the balance of the year and a lot more initiatives, particularly the price cuts and the remodels that we think will drive the top-line higher from here."
Posted-In: Apple Pay Chuck Grom CNBC CNBC Instacart Sterne AgeeMedia Best of Benzinga
View Comments and Join the Discussion!