Bill Ackman 'Taking A Look' At Tesco, Without Any Help From Warren Buffett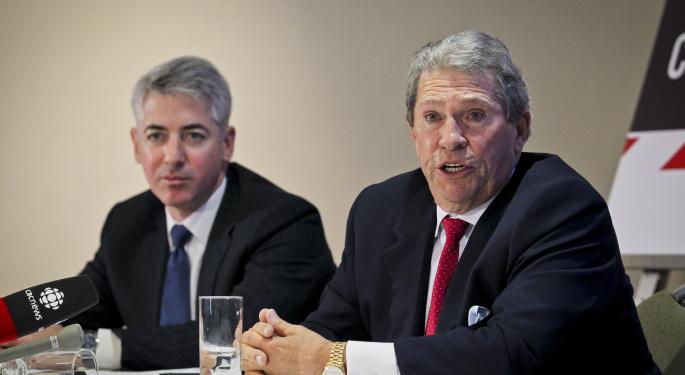 After being crowned as the No. 1 hedge fund of 2014 by Bloomberg, Pershing Square Holdings CEO and founder Bill Ackman was on Bloomberg TV to discuss the drop in oil prices, investing in Tesco plc and McDonald's Corporation (NYSE: MCD) and the listing of Pershing Square Holdings in Amsterdam.
From $11.5 Billion To $18 Billion In AUM, What Now?
"We're looking for what we normally look for, which is we're looking for very high quality companies, usually very large businesses, dominant, simple, predictable, free cash flow-generative companies that have -- I guess as Buffett would describe them -- a moat around them," Ackman said.
"Brand, unique assets, long-term contracts, things that protect the business from new entrants. Businesses that are not exposed to commodity prices, fortunately."
Related Link: Update: Pershing Square Responds To Herbalife
After Such A Successful Year, Why Are You Not On A Vacation?
"So I'm here because we took a company public here called Pershing Square Holdings, listed on Euronext. I think no one knows it actually exists even though it has almost $7 billion of capital. I think it was the largest IPO in Europe last year, interestingly enough, about a $2.7 billion IPO," Ackman replied.
How About Buying A Big Company In UK?
"We did look at Tesco, I'll have to admit that. But we've had our difficulties with retail and a lot of structural changes going on that make that a more difficult business. We look occasionally at companies in the U.K.," Ackman said.
When asked if he asked Warren Buffett for advice on Tesco, Ackman replied, "No, but when Warren Buffett is giving up, there's got to be a lot of negative sentiment. But he's probably giving up for a good reason. But a lot of assets, et cetera. But we look on a very rare occasion. We were a shareholder of Cadbury prior to the Kraft [Foods Group Inc] deal. But, other than that, we've done nothing here. And we've not been active in any way here."
Are You Looking At McDonald's?
"At this point, we're a Burger King shareholder," Ackman said.
"Burger King, I think, is taking very meaningful market share away from McDonald's. We have a lot of confidence in the Burger King management team. So I think it'd probably be unlikely for us to be competing with ourselves. And I think McDonald's stock is not cheap. I think that can be a serious issue because there's a very strong balance sheet, pays almost a 4 percent dividend yield. I think that supports the stock price. So I think it's not as interesting, because the dividend supports a value that I think is maybe not justified based on the current performance of the company."
Are There Opportunities In Energy Sector That You Are Looking At?
"My guess is that opportunities will appear," Ackman replied.
"I'm not sure that we're the ones that pursue them. We spend most of our time looking at macro factors to determine which macro factors -- we like businesses where energy prices can go up and down that won't have a material impact on the companies we own. So we look for these very, very resilient businesses."
View Comments and Join the Discussion!
Posted-In: Bill Ackman Bloomberg CNBC Euronext Pershing Square tesco plc Warren BuffettMedia Best of Benzinga